Amazon has made its first move to capture the high-end health and beauty market with the launch of a dedicated luxury beauty store on Amazon.com.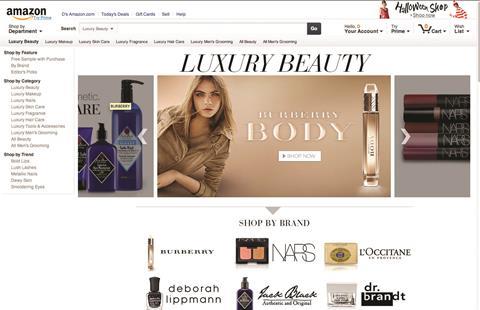 Featuring fragrances, make-up, nails, skincare and men's grooming products, the store makes clear Amazon's ambitions in the category, which could pose a threat to premium retailers such as Sephora as well as department stores.
Part of Amazon's wider initiative to offer 'Earth's biggest selection', this latest initiative demonstrates a growing focus way beyond its media and entertainment roots.
From 35% in 2007, electronics and general merchandise now account for a majority 63% share of Amazon's total sales.
At last week's World Retail Congress, retail guru Martha Stewart commented on Amazon's growing ambitions in upmarket fashion. The etailer recently took out a double-page ad in the New York Times to highlight its offer. Stewart said this was a bold statement, which told everyone "hey, this is where we will all be buying our clothes in future".
The move into luxury health and beauty is not a huge step for Amazon, which already offers high-end beauty items via third-party sellers as well as through its Quidsi subsidiary Beautybar.com.
However, the difference lies in the dedicated Amazon shop, which features items from 24 prestige brands including Burberry and L'Occitane.
The store is characterised by a clean design and larger images, which together with editorial content from Amazon and the brands themselves give the site a more upmarket feel than Amazon's regular beauty category. Customers can navigate the site by feature, category or trend. There are 12 customer types reflecting potential lifestyles, ranging from Glam Girl to Busy Mom.
Luxury beauty is another category that could benefit from the convenience and cross-channel shopping trends that Amazon is seeing from its Prime customers in the US, where the fastest-growing categories last quarter were clothing and consumables.
At present, Amazon's luxury beauty store has a small selection of items and brands. Prestige beauty brands such as Dior, Clarins and Lancôme are likely to resist selling via Amazon at the risk of cheapening their brand image and loosening the control they have on supply chain. However, Amazon's ambitions are now clear and retailers in the health and beauty and department store sectors would do well to keep a close eye.
Lisa Byfield-Green, senior retail analyst, Planet Retail.
Planet Retail
For more information contact Planet Retail on:
Tel: +44 (0)20 7715 6000
Email: info@planetretail.net