A mix of outdoor market and indoor food hall, Torvehallerne is a multi-sensory foodie's paradise in central Copenhagen.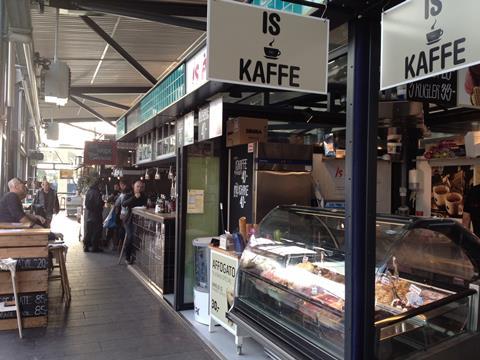 Since it opened in late 2011, the retail space has transformed the Israels Plads from a car park into a bustling destination.
Located just moments from the Nørreport metro station, Torvehallerne is comprised over 60 stalls, boasting cuisines from around the world. Visitors can peruse anything from top-notch Greek olives to Spanish hams and Danish open-faced sandwiches. All of these are prepared on-site alongside kitchenware and utensils, which inspire shoppers to cook for themselves at home.
The site employs a modern Danish design aesthetic to Israels Plads's 200-year tradition of outdoor vegetable and livestock markets. The result is something that instantly feels part of the neighbourhood.
The two new glass-fronted halls are separated by a cobblestone square that hosts vegetable stands and outdoor tables, offering over 60,000 visitors a week the opportunity to buy fresh ingredients or park their bike and enjoy an afternoon beer.
To research the structure, its architects travelled around the world to discover best practice in market retailing. The final layout was inspired, at least in part, by the Mezquita mosque and cathedral in Córdoba, Spain. The market stays open well after dark keeping the bustling area alive into the evening.
Consumer insights
Retail theatre and showing behind-the-scenes activity are central to Torvahallerne's success. Multiple try-before-you-buy touchpoints and encouraging visitors to browse and compare stalls increases the sense of trust and transparency between visitors and merchant.
Brand take-away
A co-ordinated approach has created a new destination. Traditional market aesthetics and the use of social space has enhanced the food shopping experience.
Brought to you by Fitch. FITCH is a global brand and retail design consultancy Bold Thinking, Seamless Experiences