Tesco is thought to be considering a spin-off of its Asian business to raise funds. Retail Week looks at the performance of its global operations.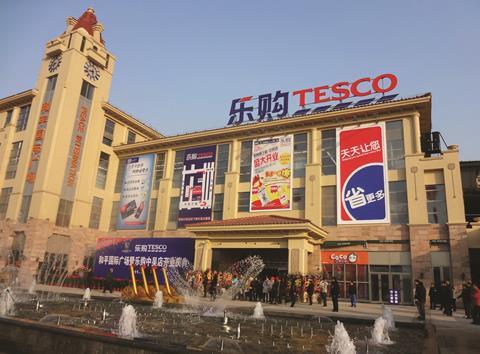 Tesco boss Dave Lewis admitted this morning a group-wide review was on its way, but addressed speculation by stating the company has "made no conclusions whatsoever" about its international operations.
Lewis said there were "some positive market-beating performances" in central Europe and Asia during the half year to August 23.
Here we detail how Tesco's overseas businesses are doing:
Asia
Sales dropped 0.5% at constant exchange rates to £5.1bn
Trading profit fell 9.2% at constant exchange rates to £260m
600,000 sq ft net new space opened and a similar amount is planned for the second half
Tesco's Korean business remained challenging as its large stores were hit by the Distribution Industry Development Act, which came into effect in February and requires large-scale stores to close two Sundays each month. The law is designed to boost small independent companies.
The political situation improved in Thailand with the cessation of a curfew, but the environment remains uncertain. Sales were hit by extensive vouchering activity and an increasingly competitive convenience market.
Sales in Malaysia were impacted by low consumer confidence and recent protests against Western businesses.
Europe
Sales fell 1.8% at constant exchange rates to £4.8bn
Trading profits increased 41.8% at constant exchange rates to £76m
Tesco opened 200,000 sq ft of new space, but closed a similar amount under-performing space, primarily in Turkey and Poland
Although total sales fell in Europe, Tesco recorded positive like-for-like sales growth in the Czech Republic, Hungary and Turkey.
Tesco revealed pressure on sales in Ireland and Slovakia held back profit growth. The Irish market was hit by "intense" competition from the discounters and high levels of couponing.
The grocer maintained its market share in Poland, but the second quarter was affected by deteriorating consumer confidence after sanction were placed on Polish exports to Russia.
The sales lift in Hungary and the Czech Republic was helped by the performance of Tesco's F&F clothing offer and the revamp of fresh produce sections in stores.
Tesco, which has been criticised for taking its eye off the ball of its core UK business, attributed the sales increase in Turkey to focusing on the "heartland".