Retail Week is launching the first Retail Week Hackathon, affording retailers crucial insight into creating the ultimate customer experience.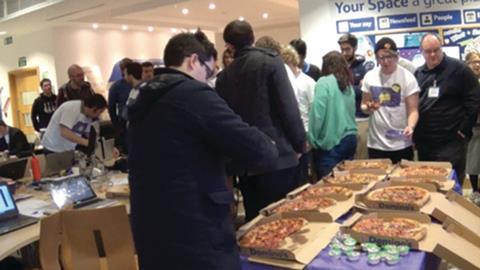 If you want to stand any chance of keeping up with the fast pace of change, you should be doing hackathons," says Tesco head of open innovation Nick Lansley.
It is a mantra that not only Tesco has adopted, but other leading retailers including Argos and Shop Direct.
Retail Week is now giving technologists the chance to take part in a dedicated hackathon for the retail sector with the launch of the 24-hour Retail Week Hackathon.
Held during the Retail Week Technology and Ecommerce Summit in September, the Retail Week Hackathon will bring together some of the brightest minds in retail and technology to devise new and innovative ideas.
The theme of the Hackathon is 'creating the ultimate customer experience' and teams will compete to deliver the best idea to an expert judging panel.
The teams that develop the best three ideas will deliver their pitches on stage to an audience of senior technology and ecommerce directors, and the winner will receive a trophy and full coverage in Retail Week.
Lansley, chair of the judging panel, believes hackathons are essential in today's retail sector. "All good retailers are looking at this now, as they want to transform the experience for their customers as much as we do with ours."
Lansley, who has run several hackathons at Tesco, including a 'globathon', in which staff from all countries where the grocer is present took part, says hackathons deliver innovation from all parts of the business.
"We are all innovative but no one person has all the answers and hackathons allow ideas to come from everywhere," he says.
Tesco's internal hackathons have delivered ideas such as its Tesco Discover app, which allows shoppers to buy ingredients for recipes featured in the grocer's Real Food magazine. The app is one of Tesco's most popular. So far it has had more than 150,000 downloads and a good engagement rate, with an average session length of 3.5 minutes.
He also believes hackathons encourage collaboration. "Collaboration is a key part of hackathons and staff from across the business of all ages have joined ours," he says.
Lansley says most teams have a mix of staff from different parts of the business. He stresses though that each team should have at least one person who can do the coding. "Once something has been coded, then you often hit problems that you then work though, so you've been through the pain barrier. So that brings other learnings as you may not have foreseen those problems on paper."
Anyone can get involved with the Retail Week Hackathon – see the box below for details. Innovation in retail is becoming ever more crucial.
The judging panel
Nick Lansley, Head of open innovation, Tesco & Retail Week Hackathon chair.
Nick Lansley has been part of Tesco's team since 1987, starting out in IT project development for in-store and depot work. In 1995 he joined a founding team whose objective was to "see what we could do with this thing called the internet". That led to the launch of Tesco's online grocery service, which was trailblazing at the time. Lansley then moved on to research and development, helping to improve the online experience. In his innovation role he has played a key part in engaging with start-up communities such as the Rainmaking Loft. He has also spearheaded Tesco's hackathons and globathon.
Martin Newman, Founder, Practicology.
Listed on Retail Week's Top 50 Etail Power List for the past four years, Martin Newman is one of the most influential players in online and multichannel retailing. As chief executive of Practicology, a global strategic ecommerce and multichannel consulting practice, his clients include House of Fraser, Waitrose, Ted Baker and Adidas. Newman has been responsible for delivering growth across several large brands. He is also an experienced non-executive director and sits on the board of Conviviality Retail, on the advisory board of Wiggle and is a multichannel and digital adviser to Breast Cancer Care.
Matt Truman, Chief executive and founder, True Capital Partners.
Former retail analyst Matt Truman set up True Capital in 2008 to build a differentiated retail and consumer sector specialist alternative investment manager. One of his early investments was etailer AlexandAlexa.com, a start-up childrenswear retailer. The True Capital group includes specialist retail and consumer incubator TrueStart, which invests in the latest industry innovations including The Unseen, a materials science and design consultancy that fuses science and creativity to integrate biological, chemical and electronic elements into materials.
Julian Burnett,Head of IT strategy, architecture and business process unit, John Lewis.
Julian Burnett focuses on the development of a strategic IT planning and architecture capability to support the delivery of IT for John Lewis's growth strategy. John Lewis has built a successful multichannel business and is one of the leaders in creating a retail business positioned for the future, investing in technology to drive growth. Burnett has also played a key part in the launch of JLab – John Lewis's business incubator that has invited entrepreneurs to submit ideas they believe will change the future of retail. Five JLab finalists have won investment and mentoring and the winning entry will be developed and piloted in John Lewis.
The details
The 24-hour Retail Week Hackathon is open to teams from retail or the start-up community. The challenge is 'creating the ultimate customer experience' and we are looking for teams to deliver a digital product that can be demonstrated to our expert judging panel.
What - You and your team (of five maximum) will participate in 24 hours of hacking with the aim of producing the most innovative and demonstrable solution that could change the customer experience forever.
When - The Hackathon will kick off at 1pm on Wednesday September 17, 2014. All projects will be judged on-site and a presentation of the top three ideas will take place on stage at 2.40pm on September 18.
Where - The Hackathon will take place at the Emirates Stadium, London as part of the Retail Week Technology and Ecommerce Summit.
How - You can pull together teams from all disciplines but we do specify that at least one member has coding skills. Pitching and presentation skills are very important. We will have facilitators on hand to help and provide plenty of food and drink to keep you going.
How to enter - Please contact Victoria Hart: Victoria.hart@emap.com