The fashion retailer has grown strongly but profits have recently fallen.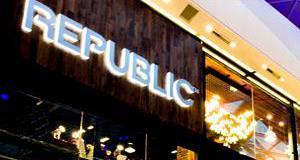 Having helped build up a 121-store business since its beginning 26 years ago, Republic co-founder Carl Brewins has decided to take a step back from the day-to-day running of the business, as revealed by Retail Week last week.
Citing personal reasons for the decision, Brewins will remain a non-executive director of the retailer, and still owns a significant share of the company, which is split 60/40 between private equity backer TPG and management.
Republic – established in 1986 as Best Company – has over the years repositioned itself from a jeans and denim specialist to a trendy young fashion retailer. The transformation was moulded by Brewins and Whitworth at the beginning of the last decade and led to the name change. It is a partnership that will be change to some extent as Brewins steps back.
By 2011 the founders – initially cautiously – had turned Republic into a £27.3m pre-tax profit business. However, the retailer stepped up its expansion plans from 2005, opening five to 10 stores a year.
Republic targets prime locations for stores and in recent years prominent shops have opened or been relocated in Liverpool, Westfield White City, Sheffield, Chester, York and Bath The store opening programme shifted up a gear in recent years, with a move towards larger shops. While Republic is predominantly a high street and mall retailer, it has in recent years tested two out-of-town stores in Scotland.
Expansion has led to growth in the top line, and the strength of its financials and management team has attracted investors. In 2010 Change Capital sold its majority stake to TPG in a reported £300m deal, which would have tripled the initial investment it had made in Republic just five years earlier.
TPG has continued to plough money into the business – alongside the founders – injecting £9.3m in 2009/2010 and a further £9.6m in 2010/2011. The money helped Republic further expand its store portfolio and it web operations, and the tactic seems to have worked. When the retailer revealed its full-year figures for the year to January 2011, it said revenue growth had come from new shops and online.
Republic, chaired by former Asda boss Andy Bond, continues to put store expansion at the heart of its growth strategy, and sees room for a further 80 as it builds up a 200-store portfolio. This target has been revised down from the 225 to 250 store target originally mooted, which the retailer puts down to the growing strength of its web offering.
In its last financial results, Republic revealed that online sales now account for 10% of the total, after "substantial" sales growth in the channel that year. Retail Week Knowledge Bank forecasts online sales over 2011/2012 will be £20m to £22m, the equivalent of 11% to 12% of overall sales. While it hopes to use the website to expand international sales, it has no overseas stores planned yet.
Despite the store openings, the retailer has been unable to keep up the momentum of the early 2000s when it was achieving 30% sales growth. Total sales increased 4.5% in 2010/11, while operating profit fell 7.3% as operating margin dropped two percentage points.
Last summer, the retailer asked banks for more financial headroom as TPG made a further cash investment. It insisted it was not in danger of breaching its covenants, and it is understood that the move would enable it to take advantage of good property deals, improve its IT systems and introduce more brands into the mix – one of Republic's key strengths. Just before Christmas TPG and the other investors injected another £20m.
Republic always attempts to introduce new and exclusive brands in-store, including G-Star, Bench and Diesel, mixing different styles for its core 15- to 25-year-old market. Republic said at the beginning of last year that the 15 to 25 age bracket had been less severely affected by the economic conditions of the past few years, offering some shelter from the squeeze on incomes affecting UK retail.
However, with rising youth unemployment and continued low consumer confidence, Republic is not immune to the downturn. Whitworth will be hoping he can restore Republic to profit growth, even without the day-to-day involvement of Brewins.
Rise of the republic
Stores 121
Founders Tim Whitworth and Carl Brewins
Management Chief executive Tim Whitworth, chairman Andy Bond
Sales growth 4.5% increase to £180m in 2010/2011
Retail space 19% increase in 2010/2011