It is a time of change at the pet specialist as the long-serving chief executive steps down.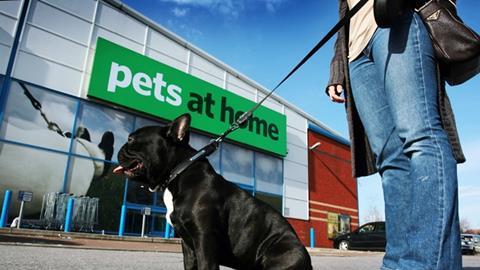 Pets at Home is approaching the end of an era in the next few months as chief executive Matt Davies, who has been at the helm for eight years, hands over the reins of the pet specialist. The yet-to-be named new boss has big shoes to fill as he or she takes control of the fast-growing retailer's next stage of expansion.
The pet specialist has been on a store grab since being controlled by private equity.
KKR's £995m acquisition of Pets at Home from Bridgepoint in 2010, which owned the retailer from 2004, was one of the biggest retail private equity deals in recent times and showed the private equity firm's confidence in growing the UK's leading pet specialist.
Pets at Home has come a long way in its 20 years of existence. The retailer was a pioneer of the pet superstore concept when its first shop opened in Chester in 1991, and it continues to be the only nationally recognised pet specialist in a fragmented market.
Under private equity ownership Pets at Home has expanded, adding 115 stores over the past five years.
It has also revised its store target number. It was at one time aiming for 300 shops across the UK – the number it has at present – but is now aiming for 400.
As well as targeting superstore openings, Pets at Home will also open smaller format stores which it introduced in 2004.
Covering 3,000 sq ft to 6,000 sq ft, the smaller shops will fill gaps in its network. It plans to open the smaller format in catchment areas which have a population of more than 15,000 people.
The retailer is the clear market leader in the UK and holds a 15% share of the £3.3bn market, up from 10% six years prior. Unlike other specialist retailers it has managed to consistently grow turnover in the face of stiff competition from the grocers.
Its unique offer has helped it differentiate from the supermarkets with only 11% of its sales coming from ranges sold in the grocers. It also has a growing own-brand offer, from value to premium, which it introduced in 2004/05 and now accounts for one third of total sales, bolstering margins.
Beyond product, it has also branched into complementary services and now has veterinary services in 90 of its stores which it runs in a joint venture with Companion Care, along with pet grooming services.
It has been said that because spending on pets, along with children, is the last expenditure to be reined in during a downturn, the market is immune to economic volatility.
However, the retailer's like-for-likes have been under pressure in recent times, with growth slowing to 1.8% last year from 8.8% the year before.
Davies admitted last year that customers are less willing to trade up during tough times, and the retailer has devoted less space to its most expensive products. Pets at Home has also started investing in lower prices and promotions to stimulate growth.
Pets at Home plunged into the red last year, making a pre-tax loss of £14.6m, down from a £26.8m pre-tax profit the prior year as a result of rising interest payments.
However, EBITDA continued to grow, jumping 10.3% to £93m and it remains undeterred in its expansion.
The new boss's appointment is expected imminently, and the priority will be to continue to expand and build upon its market leading position.
While Davies has steered impressive growth at Pets at Home, the new boss still has opportunities to go for, with international being a clear void in its portfolio. It was operating in Australia, but sold up in 2010. However, a venture closer to home could offer future growth and transform Pets at Home into an international contender.
With such growth opportunities and heavyweight backers, Davies' replacement as Pets at Home chief executive will surely be the pick of the litter.
Animal magic
2011 Matt Davies reveals he is to leave the retailer
2010 Acquired by KKR in a deal worth £955m
2008 Launches its first transactional website
2006 Launches its Store of the Future format in its Romford store
2004 Acquired by Bridgepoint in a deal worth £230m. Matt Davies is appointed chief executive
1999 It acquires Petsmart in the UK, giving it 140 stores
1991 Pets at Home founded by Anthony Preston