With a preppy appeal and strong international prospects, the fashion chain is a rising star.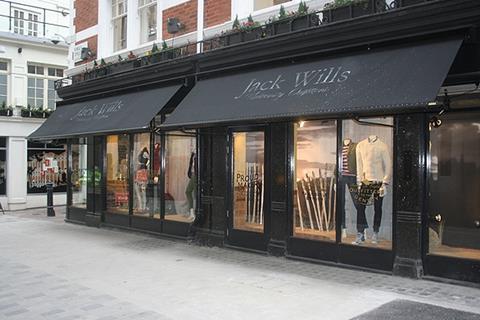 Young fashion chain Jack Wills is at a critical point in its history. The fast-growing retailer is not only about to push the button on overseas expansion, it is understood to be mulling a possible stake sale or flotation.
The retailer was reportedly in talks to appoint Goldman Sachs this summer to advise it on sale and IPO options.
Its stellar performance in the year to January 31 – when it achieved a 57.5% pre-tax profit leap to £10.4m on a sales jump of 42% to £92m – has undoubtedly attracted interest from would-be investors.
The chain's growth potential internationally will also not be overlooked. The preppy fashion look on which Jack Wills has built its success has seemingly struck a chord with US shoppers. Overseas sales – which are largely attributable to its 11 US stores – grew from £1.1m to £1.65m over the year and it is looking to build its fledging US presence to help maintain its fast growth.
So far, Jack Wills, which sells upmarket sports and leisurewear, has focused on the east coast of the US, predominately in university-heavy New England, but the retailer is eager to stick its flag in the ground in California, which is its biggest market on its US website. It is also said to be scouting for store locations in New York.
Jack Wills has prepared for the expansion by hiring a president for its US operation, former Rugby Ralph Lauren senior vice-president James Hardy. Like Jack Wills' non-executive director, former Burberry chief executive Rose Marie Bravo, Hardy has experience growing an international brand.
The fashion chain's main competitors in the UK are US retailer Abercrombie & Fitch and sister brand Hollister, which pioneered the preppy look. However, Jack Wills refers to its style as "fabulously British", which may appeal to American customers.
Unusually for a global fashion brand Jack Wills started life in Devon, founded by joint managing director Peter Williams in 1999. The retailer steadily built its store portfolio in university and market towns across the UK but began expanding rapidly following the sale of a 30% stake to private equity firm Inflexion in 2007.
It also launched new fascia Aubin & Wills – aimed at a slightly older, post-graduate audience – following Inflexion's investment. There are now eight Aubin & Wills stores as well as three concessions in Selfridges in London, Birmingham and Manchester.
Whether it decides to pursue a sale or flotation, new fascias and overseas expansion opportunities mean the future is looking bright for the preppy retailer.
Getting to know Jack
Owner Management – 70%, Inflexion private equity – 30%
Joint managing directors Peter Williams and Rob Shaw
Number of UK stores 58
Number of international stores 13
Sales Up 42% to £92m in the year to January 2011
Pre-tax profit Up from £6.6m to £10.4m