At Retail Week we place a huge premium on understanding the needs of our subscribers, and are always looking for new ways to better serve our customers.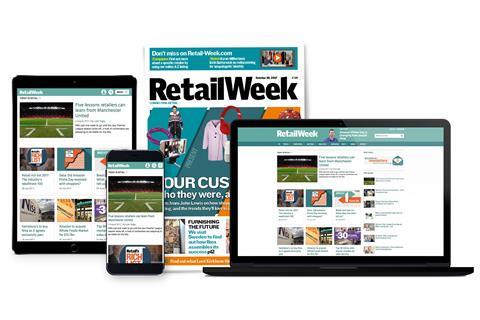 We have recently undergone updates to our website, which will provide you with an even better online experience. These improvements will give you more control of your account and help you stay up to date on the topics that matter most to you.
In the coming weeks, you will notice:
Retail-Week.com is now more customer focused – you can view personalised content based on your activity and tailored to your interests.
Streamlined article pages – navigating between stories is now easier and finding more content that appeals to you is just a click away.
Make sure you don't lose access, here's what you need to do:
As part of the website upgrade, we have implemented a more secure login system that will affect all users. Your password will no longer be valid and you will be required to update this in-line with our security changes. Click here to create a new password for your Retail Week account.
We have also upgraded our email platform, which may result in you no longer receiving the emails that you signed up for. You will need to add@Retail-Week.com to your Safe Senders list or Whitelist to make sure our emails don't get blocked or sent to junk – click here for full instructions on how to do this.
In an effort to introduce a safer and innovative payment service, we have migrated to a new payment system. All subscribers that have paid via credit card will need to re-authorise payment details on the new system. Look out for an email with full details on how to take action. The email will provide you with a unique link that will recognise you as the account holder.
We encourage everyone to explore the site and update their profiles as soon as they can for uninterrupted access to Retail-Week.com.
If you have any questions or feedback you would like to share with our team, please feel free to contact us on +44(0)20 3873 2847 or email Customerservices@Retail-Week.com


Chris Brook-Carter is chief executive of retailTRUST.