Retailers cautiously optimistic for Christmas sales, but deep fears about the run-up persist.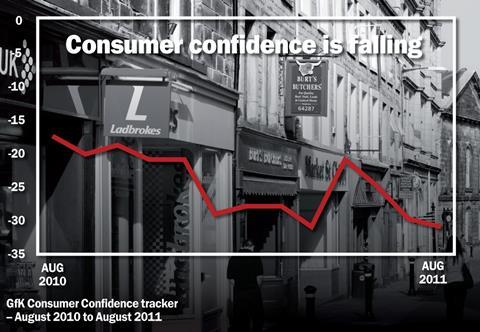 Retailers are confident consumers will spend this Christmas, but fear a roller-coaster ride in the run-up amid the toughest trading conditions the sector has seen for years.
As summer ends and focus shifts to the traditional golden quarter, retailers fear trading will get even tougher and warned of the likelihood of heavy discounting earlier than normal.
Co-operative Group chief executive Peter Marks warned of a potential "bloodbath" prompted by deep price-cutting by retailers, as they battle for share of consumer spend.
He said: "It will be tough but we're confident and we'll be in there fighting for our share."
Peacocks Group chief executive Richard Kirk said Christmas is "going to be difficult" and cautioned: "It's the three months before that worry me. There's a lack of mass appeal for fashion. People are getting out last year's clothes – everyone is strapped for cash. "
Kirk said Peacocks is "running much more promotions now than we usually do" and expects the trend to continue in the months leading up to Christmas.
Richard Hyman, strategic retail adviser to Deloitte, took a bearish view of the industry's prospects.
He said: "If Christmas sales are flat this December, it will be a miracle. The last couple of years, Christmas has been remarkably robust in the circumstances – I can't see any way that it can be this year."
He said that the still-to-be-felt impact of Government cuts and squeezed household spending power would undermine spending and expected widespread promotions as a result at a potential cost to margin. "It's going to be a heavily discounted Christmas," he said. "The consumer is hooked on a constant diet of price cuts."
Consumer confidence dropped in August, back to April's level and one only matched during the rocky periods of 2008/09 and in early 1990, according to Gfk NOP's Consumer Confidence Index.
Despite the fall in consumer confidence, Gudjon Reynisson, chief executive of Hamleys, said he is "cautiously optimistic" about the festive period, particularly in light of last year's snowy conditions, which hit retailers hard.
"Last Christmas was quite tough because of the snow," he said. "Hopefully this year we will see quite a significant uplift."
One chief executive of a leading retailer said: "I think it will be good, but not a runaway. Clearly people have less disposable income but people always find money at Christmas." He believed that because of the disruption caused by snow last year, some retailers may even manage "stellar" like-for-like sales increases over the key period.
Verdict consulting director Neil Saunders expects a "mildly positive" Christmas for retailers. inflation, he believes, will support sales but he feared volumes will be down "quite strongly". He said: "It will be muted, but it won't be Armageddon."
Saunders thought that shoppers would consider their purchases carefully, even in top seasonal categories such as toys but Reynisson thought that trend would be no
different from what is already happening. "Customers are always careful about what they're buying," he said.