To their relief, most retailers pulled off a good Christmas after a fraught year. As the festive trading season nears its end, Lisa Berwin examines the key findings from OC&C's Christmas Trading Index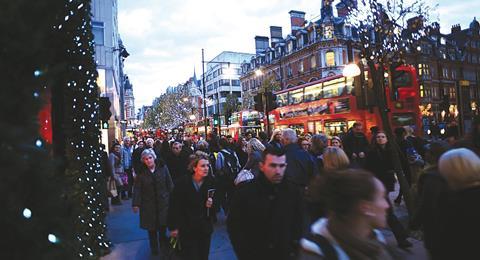 OC&C Christmas Trading Index
Trading positive - comparatively
After the turmoil of 2009, retailers desperately needed a strong Christmas to end a difficult year on a high. During the festive run-up last year barely a day went by without a new story of a retail chain collapsing into administration with Woolworths and Zavvi two of the major victims of the downturn.
This year brought far more cheer for the industry, with most retailers reporting positive trading, which was something of a rarity last year. Although a great deal of this year's results are undoubtedly against soft comparative figures, there is no doubt that many shoppers shrugged off the gloom, deciding to ignore the recession and enjoy Christmas.
Collapses condense sales
OC&C associate partner Tom Gladstone says: "The ghosts of Christmas past will have helped retailers' like-for-likes more generally this year. We have seen a number of retail chains exiting the market over the last 12-months, and the loss of this space will have benefited the like-for-like sales of those retailers still standing."
The supermarkets and discount players such as B&M Bargains and Poundland particularly benefited from inheriting Woolworths shoppers.
Dreaming of a white Christmas
The snow and ice made life for many Christmas shoppers - especially those in the north of the country - a treacherous affair.
Consumers in more remote areas particularly struggled with the all-important pre-Christmas shop, as several inches of snow created a picture-postcard Christmas, but a less pretty picture for retailers, who struggled to make sure deliveries were made on time.
Even London, which had better weather than most before Christmas, felt a shudder from the cold snap, with the 12% like-for-like sales growth in the capital driven by higher spend per shop rather than footfall, which actually declined.
Why the losers lost
Not every retailer posted glittering results over the festive period. Game Group's UK and Ireland like-for-like sales slumped 17.5% in the five weeks to January 9, which it blamed on strong comparatives last year and negative trends in the PC and video games market.
Waterstone's also had a weaker Christmas. Its 8.5% fall in like-for-like sales was announced as parent group HMV reported the departure of its boss Gerry Johnson, and it said that sales of celebrity books were falling off a cliff. Waterstone's should be in a strong position this year, however. One of its biggest rivals, Borders, was one of the few pre-Christmas victims and it has the backing of HMV, which has been masterful in finding new revenue streams.
Grocers give food for thought
Christmas was certainly a happy one for the grocers, with Tesco and Sainsbury's beating analysts' expectations and defying the falling food inflation that helped lift sales last year.
Tesco had its best Christmas for three years, while Sainsbury's put in a record festive performance. Morrisons lauded the strongest like-for-like sales figures of the big four supermarkets for the third year running, up 6.5% excluding petrol. And Waitrose, which has been beating the downturn despite its higher price points, increased like-for-like sales 9% over the festive period.
Waitrose's gains, as Gladstone points out, may have been at the expense of Marks & Spencer, which advanced its food sales just 0.4%.
Non-food sales sparkle
Sales of non-food soared 26.5% in December on last year, a 16.9% lift on November, which was a very damp and dismal month for the high street. Young fashion was one space that did particularly well, despite rising youth unemployment. Republic, Supergroup, Blue Inc and Office all reported sparkling results, showing that its demographic still seems more cushioned from macroeconomic influences.
Big-ticket items - particularly furniture and electricals - also showed stronger growth on soft comparisons.
Suitable stock levels
Last year retailers were really caught out with the collapse of Lehman Brothers in September and bad news coming from across the economy. The banking crisis caused mass uncertainty and meant a great deal of stock was left over at the end of the year. According to PricewaterhouseCoopers (PWC), 80% of retailers were on Sale in the week before Christmas in 2008. In the same week in 2009, this figure had dropped to 60%, as retailers were a great deal more cautious with their stock.
What VAT effect?
The impact of the VAT increase back up to 17.5% in January seemed to have a limited impact on shoppers in terms of them bringing forward their big-ticket spending.
DSGi chief executive John Browett said at the retailer's post-Christmas update that it was difficult to determine the extent to which the VAT change may have pulled forward sales.
PWC director of retail Andrew Garbutt says: "The impact on big-ticket items due to the VAT rise was not as big as people thought, especially as lots of retailers in real terms did not pass the saving on last year."
Affordable luxury
Gladstone highlights affordable luxury as one of the Christmas winners. "Affordable luxury was a winner this year, as consumers treated themselves after 11 months of austerity," he says. "Department stores also benefited from this trend, with John Lewis and House of Fraser delivering 12.7% and 7.1% like-for-like growth respectively."
He adds that those that delivered a clear, distinctive message to shoppers, such as John Lewis, had a strong Christmas. "It is not that the customer does not want to spend money, but if they spend it, they want to know they are getting good value," he says.
Online bubble yet to burst
Online sales again outperformed the general retail space. Shoppers are becoming increasingly comfortable with buying Christmas presents and food online, trusting more than ever that etailers will be able to fulfil their delivery promises. Ocado and Tesco Direct both beat their growth rates last year.
As the market begins to mature, the rates of growth in other areas of online have slowed. Asos, for example, reported 30% growth over Christmas, which although strong, compares with a 118% increase last Christmas.
Growth will certainly be harder to achieve this year, but with improving technology and better delivery options from the big etail players, 2010 is unlikely to be the year the bubble bursts for online shopping.
Implications for 2010
Good news headlines over Christmas brought some relief to the industry, but that relief is likely to be short lived. 2010 could be just as tough as last year, as uncertainty - particularly surrounding the upcoming election - is likely to dent the progress made with consumer confidence.
Gladstone echoes this, saying: "Although the economy is emerging from recession, tax increases and future interest rate rises, combined with weak earnings growth, are likely to squeeze consumers' disposable incomes this year. With greater pressure on customers' wallets, 2010 is unlikely to be an easy year for UK retail."