Online fashion retailer Asos has reported strong trading performance in its third quarter as group retail sales rose 20%.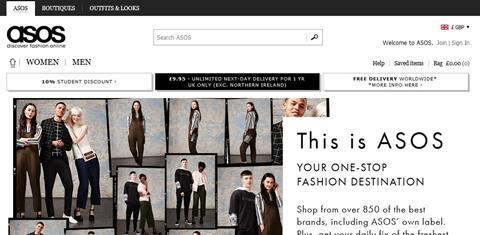 UK retail sales jumped 27%
International retail sales up 16%
Total group revenue up 21% to £396.7m
The group revealed that UK retail sales jumped 27% to £158.4m in the four months to the end of June. International retail sales, which account for 59% of its business, climbed 16%.
The number of active customers increased 11% year-on-year to 9.7 million, Asos said.
It marks a continued turnaround for the business which last year saw a number of profit warnings and a warehouse fire.
Chief executive Nick Robertson said: "After accounting for our price investments during the period, the full year gross margin is nonetheless expected to remain in line with last year, assisted by tighter inventory control and strong full price sales."
Looking ahead, he added: "We anticipate that sales for the full year will be at the higher end of our guided 15-20% growth range. We have increased investment in our people and our customer proposition, particularly in relation to free returns trials. We therefore expect EBIT margin to remain at the guided level of around 4%."
Asos will report full-year results on October 20.