Danny Donovan, joint managing director of London MediaCom looks at the user personalisation of Tesco and Waitrose's grocery apps.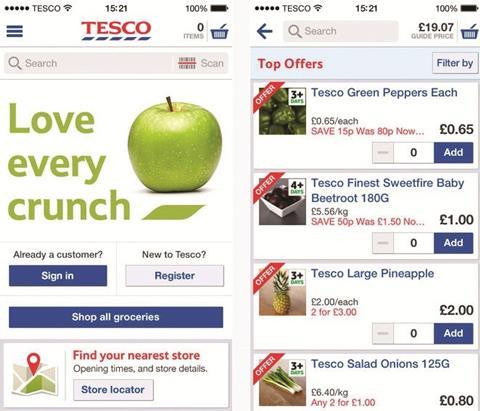 Tesco
The Tesco grocery app is all about personalisation, which is brilliantly executed. It welcomes users by name and links up all the Tesco businesses, such as Clubcard details, Tesco Direct and Blinkbox, to allow effective cross-selling.
The simple walk-through of the app at the beginning is helpful and the interface has a clean look. Also, the three levels of offers on the homepage (top offers, half price, BOGOF) shows a great understanding of its customers.
Finally, the recipe inspiration feature is very interesting; the simple 'add to basket' feature allows you to purchase individual ingredients directly, as needed.
Waitrose
Waitrose is known for its service ethos so it's a shame to see that this hasn't transitioned to its app offering.
There is a missed opportunity for product pairing suggestions, which is a big concept in-store and there doesn't appear to be a focus on user personalisation, which is key to an app of this nature.
The app is very slow to load, which is not ideal for mobile users. This could be due to the amount of filter options when browsing.
Overall, the app is trying to do a lot of things, but doesn't quite do any of them well enough to match up to the Waitrose in-store experience.