Leisure destinations are continuing to trump shopping centres and high streets on pivotal shopping weekends in the retail calendar.
With footfall numbers in traditional shopping destinations depleting and consumers moving online, it is not enough to just sell stuff anymore; retailers need to lure shoppers into their stores by embracing experiential retail – retailtainment.
And this is where garden centres are in luck because as Jane Westgarth, senior retail analyst at Mintel, says, by their very nature, these stores are leisure destinations where families visit to eat, explore and shop.
Hoping to capitalise on the trend towards leisure spend, many good garden centre retailers have been proactive at cultivating the experiential element of their large stores to further grow their appeal.
Nurture, nature
Many of the strengths of a garden centre are innate and consequently cannot be emulated to benefit other entities in the retail industry.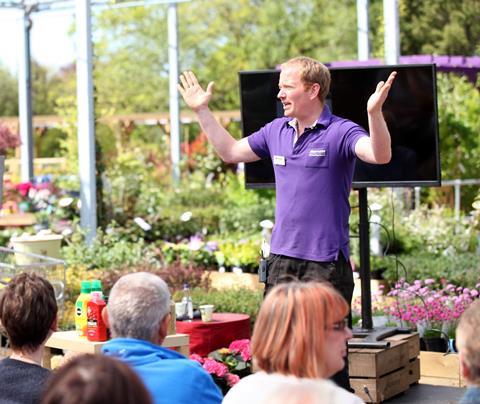 Garden centres, for example, tend to be set in attractive rural locations with pleasant surroundings. Unlike congested built-up town centres, the leisure appeal is woven into their DNA – they are desirable places to visit.
Additionally, 80% of the approximate 2,700 garden centres nationwide are independently owned. This gives each centre a unique feel and a sense of locality.
Independence gives the added benefit of allowing a business to be agile and responsive to quickly change their product offer to meet customer or seasonal demand. According to consultant Mdj2 Associates director Andy Newman, this gives garden centres an "element of flair that's started to disappear a little from mainstream retail".
Also, because garden centre retailers often own their land, they are not bound to expensive property leases. They have an immediate head start when it comes to balancing the books and potentially more cash to play and invest with.
Newman says: "When you have a freehold operation, you have the potential to be extremely profitable. And because garden centres tend to have had the same ownership for many years, or are family businesses, they benefit from stability of ownership and management."
"Because garden centres tend to have had the same ownership for many years, or are family businesses, they benefit from stability of ownership and management"

Mdj2 Associates director Andy Newman
Westgarth adds that, even if the retailer does not own the land, garden centres tend to be in cheaper locations. She says: "Rent is often lower in urban locations. The building and the infrastructure costs are cheaper too. If you're opening a B&Q store from scratch you need to first acquire a retail site in a suburban location, which is much pricier."
More than a garden centre
However, since the birth of ecommerce, consumers have become increasingly demanding. Despite its inherent advantages, it's no picnic for garden centre retailers. It is an intensely competitive category that value retailers such as B&M and Ikea continue to take chunks out of. Even Poundland has launched its own Charlie Dimmock range.
Garden centre retailers have worked to raise the bar in retailtainment to ensure they keep their appeal. Newman says that, for fear of growing cobwebs, garden centres have evolved into destination centres. "They have become garden and home department stores," he says.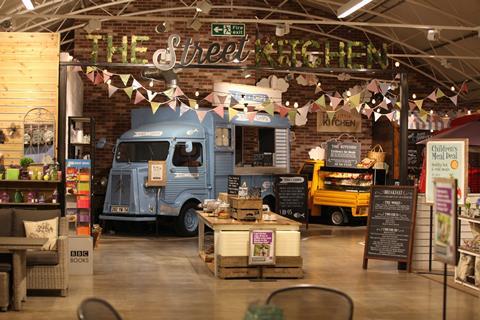 Many are now multi-platform stores, complete with cafés, children's soft play and seasonal activity areas such as Christmas grottos. By offering such a broad range, garden centres have evolved into local family attractions.
Keeping it fresh, local and theatrical
According to Newman, the best garden centres are those that maintain the feel of an independently run store, even if they are in fact part of a chain.
"Notcutts is a great example," he says, "of a very traditional garden centre business with a long heritage. [It has] recently recruited some retailers and invested heavily in redesigning each of its 18 stores.
"However, where Wyevale has a bit more of a corporate approach, Notcutts has retained its local feel and flexibility. It is less formulaic and changes what it sells on a week-to-week basis."
Notcutts marketing director Julie Murray says: "Our customers want to enjoy a leisure experience when they shop with us and we therefore pride ourselves on our expert advice, talks, demonstrations and inspirational displays as well as a providing a place to relax and enjoy a coffee with family and friends."
Newman says an informal approach to store design can appeal to customers and cites 17 store garden centre group Blue Diamond as a great example of this. He says: "The stores are ramshackle, with lots of stands. Shoppers can meander through its illogical product mix, and they always look relaxed and content."
Westgarth adds that some of the most spectacular examples of merchandising in retail can be found at garden centres.
She says: "Bents Garden and Home in Lancashire has the most stunning Christmas display you'll see. It created an immersive alpine scene last year, complete with Ferris wheels and ski lifts."
Keeping it sweet
Retailers across the board have long reaped the benefits of installing cafés into their stores. However, Westgarth argues that many customers visit garden centres first and foremost for their food offer.
She says: "Heavy investment into restaurants is generating significant returns. Some are reporting about 25% of sales generated from catering alone. It's not a case of offering a few sandwiches and an indifferent cup of coffee though. Garden centres have prioritised the food offer, with chef-led restaurants."
She adds that larger centres often now have both a tea room and a restaurant for shoppers to choose from.
In particular, Petersham Nurseries in Richmond is highly regarded for its award-winning glasshouse restaurant and its tearooms and has even become a bit of a celebrity hotspot.
Petersham Nurseries in Richmond is highly regarded for its award-winning glasshouse restaurant and its tearooms and has even become a bit of a celebrity hotspot
Newman says: "It gives all sorts of people a reason to visit, regardless of the occasion or time of day, and it becomes a great local meeting place.
"Good garden centres always have a decent restaurant at the heart of it because, out of season, the food becomes key."
The ultimate cross-selling experience
Garden centres, which cumulatively generate sales of around £3.1bn a year, are arguably what department stores aspire to be like. And this may be their strongest selling point.
By offering the ultimate cross-selling experience, they become less reliant on the weather and can offer something to interest everyone.
Specialist concessions act as a big driver of footfall. As Westgarth says: "By installing a concession operator who is an expert in their field, garden centres get an instant kick."
Dobbies garden centres, for example, has a tie-up with kitchenware specialist Lakeland, Joules and Cotswold Outdoors. The former Tesco-owned retailer also has an independent bicycle concession at its Edinburgh centre that its new chairman Andrew Bracey envisions being rolled out further.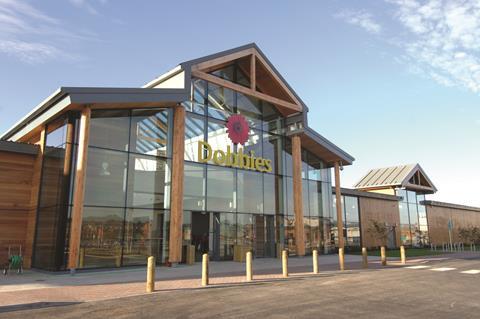 Other potential garden centre adjacencies include clothing and footwear, kitchen and bathroom, grocery, toys, books, cards and gifts, with each retailer branching out into the categories they deem an appropriate fit for the local community.
Fish and pet concessions also double as a free zoo, providing added draw for families with young children.
However, Newman warns that garden centres must never lose sight of what they do best. "A good garden centre must always be a plant expert and remain very passionate about that," he says.
Westgarth agrees and says the trick is to ensure all categories sit together well, and are "relevant to the end consumer".
Ripe for innovation
Online is an area in which garden centres are lagging behind.
While the garden centres experience is difficult to duplicate online, today's tech-savvy green-fingered shoppers expect the convenience of multichannel.
Some forward-thinking garden centres – such as Long Acres in Surrey which now offers drive-through click-and-collect for heavy goods – are adapting to fit, but most are still gathering cobwebs and languishing behind.
Westgarth says: "The garden centre industry has been very slow at developing online and multichannel but shoppers are mixing up the way they shop and want to at least be able to browse online."
"While the garden centre shopping experience can never be duplicated online, I would not rule out a surge in shopping for plants on the internet in the near future"

Jane Westgarth, Mintel
Newman agrees that it's "dangerous not to adapt". He says: "Garden centres need to cast an eye forward 20 years.
"Customers of all age profiles have a smartphone; garden centres should harness some [store] technology to help people spend their money."
Westgarth predicts, however, that garden centres are on the verge of change.
"Very rapidly, there will likely be more technology at the point of sell," she says. "There will be devices or an app to show what a plant looks like when it's matured, and the development of more educational services online."
"And while the garden centre shopping experience can never be duplicated online," she adds, "I would not rule out a surge in shopping for plants on the internet in the near future."
There are already established plant etailers, such as Crocus – a fast-growing online seller of plants. Crocus has cultivated partnerships with a number of retailers and provides a white label site for WaitroseGarden.com
Westgarth concludes: "The ones that are standing still are the ones that will suffer."
But while garden centres do not rival Amazon when it comes to fulfilling online demand, the leaders have stolen a march on creating this demand in-store. So if it's store inspiration and retailtainment you're after, don't underestimate the strength of this fast-growing sector.