Topps Tiles has introduced a new medium-sized store format as it acts to restore its fortunes after a challenging half year.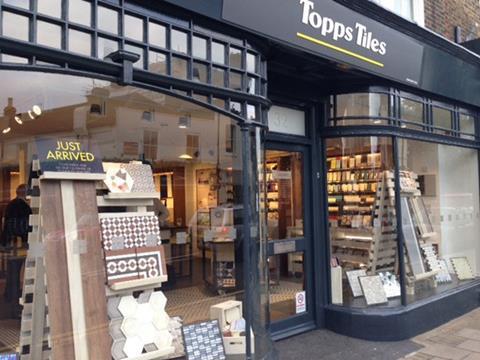 The 'small core' stores, of which there are presently two – in Brixon and Tooting – are a cross between the retailer's tiny 'boutique' stores and its larger core format.
Measuring between 2,000 and 3,500 sq ft, the small core concept allows Topps Tiles to extend its store estate into locations where its traditional core format cannot fit, and reach its maturity target of 450 stores.
The retailer told Retail Week that, as well as allowing the business to be more flexible, the format appeals to its trade customers, which have grown in number as the "do it for me" trend continues.
Topps Tiles finance director Rob Parker said: "The small core stores can hold some stock and accommodate a bit of parking and we're really happy with the results they have achieved so far."
It currently has a total of 359 UK stores, with plans to open a further 10 in the second half of its financial year, but did not yet specify formats or locations.
Commercial tile market
Topps Tiles also unveiled ambitions today to proactively target the commercial tile market.
Its boss Matt Williams said: "Our recently completed analysis of the UK commercial tile market has confirmed it as attractive and we are now evaluating a number of small acquisition opportunities to increase our reach into this part of the market."
He told Retail Week there are already "a few irons in the fire" and an acquisition is likely to be delivered before the end of its financial year.
Full steam ahead
Despite the tile specialist's half-year profits being squeezed by what the retailer described as "duff market conditions", Williams said business is "full steam ahead".
He said he is optimistic about the year ahead, "very happy" with the return on new store openings and "keen to continue investing" in existing stores.
The retailer has been negatively impacted by stamp duty changes and volatile consumer confidence since the EU referendum.