In the latest instalment of our Retail Reimagined series, examining how traditional formats would look if they were redesigned today, Gemma Goldfingle explores the DIY store 2.0.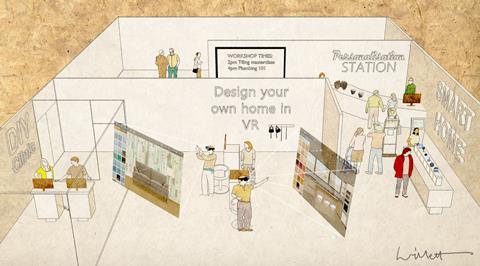 DIY is an under-pressure sector.
Homebase is to shut 42 stores after Bunnings' disastrous stint as owner and Wickes owner Travis Perkins warned on profits last month.
A stagnant housing market and generation rent means fewer people are carrying out home improvement projects but perhaps DIY stores – and even the prospect of DIY – are no longer appealing to today's shoppers.
Rather than walk the uninspiring aisles of an out-of-town warehouse, many shoppers are turning to online, or simply paying tradespeople to do home improvement jobs for them.
Stephen Robertson, who spent more than a decade at B&Q owner Kingfisher and now holds non-executive roles at businesses including Timpson and Foot Asylum, says: "The level of innovation in store has been sloth-like. DIY retail needs to up its game."
But what would entice today's shoppers into DIY stores?
Selling the vision
For former Wickes and Focus DIY chief executive Bill Grimsey the DIY store is not about buying paint or power tools, it is about selling a vision to customers of what their homes and gardens could look like.
In fact, the actual physical product is so unimportant to Grimsey that we would do away with stock in the store altogether.
"DIY stores should be about design. When it comes to getting product, it's quicker and easier to order what you want online and have it delivered to your home," says Grimsey.
"There's a big opportunity to get products made to the correct dimensions of your house and have exactly what you want"

Stephen Robertson
Grimsey would make stores the place the shoppers actually design their new kitchens or bathrooms and he would invest in state-of-the art virtual reality to bring these designs to life.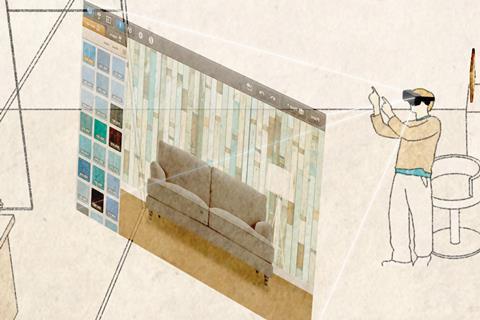 "People would be able to see exactly what their new kitchen is going to look like and be able to change all the elements until they're happy," he says. "Once people are happy with their creation we simply order all the products needed to make it a reality and have it delivered to their homes."
But the products would not be fulfilled from this hi-tech store or even a central warehouse, instead they would come directly from suppliers such as Dulux and Farrow & Ball.
Grimsey says this would reduce supply chain costs and enable the business to keep prices low for consumers.
"Why move product from a supplier's warehouse to your warehouse to stores to the shoppers house, adding cost to the process at every stage?" he asks.
With these stores acting as stockless centres of design and shoppers not having to transport bulky products home, Grimsey believes shops would be notably smaller and in prime city-centre locations rather than out-of-town retail parks.
Home of the smart home
As technology and connectivity in the home becomes more important, former B&Q director Stephen Robertson believes DIY stores should be the place to buy smart products and make the connected home a reality.
Installing these devices is a home improvement project that many will need advice about, which makes a DIY store the perfect place of purchase.
"As we move forward, homes will be increasingly smart," says Robertson. "We can already see things like Hive and Amazon Echo and Google Home taking off. DIY stores aren't picking up this huge opportunity to democratise our homes."
Robertson believes by buying in bulk, DIY stores could bring down the prices of smart home technology for customers.
Personalising products and projects
When it comes to DIY, every project and every house is different, which is why personalisation should play a much bigger role in DIY businesses, says Robertson.
"The DIY store of the past has been about one size fits all: 'here's a product, I'm sure it will fit you'. However, every project is unique," he says.
The sector has had some success using personalisation by allowing shoppers to mix their own shade of paint, however, Robertson says there has been little progression since this was launched back in the 1990s. This could be advanced to allow customers to design their own wallpaper or tiles.
Product personalisation could also enable shoppers to make sure products are exactly the right size for their project.
"Wallpapers never seem to be the right size for your wall and tiles always have to be cut to fit your floor. There's a big opportunity to get products made to the correct dimensions of your house and have exactly what you want when you walk out," says Robertson.
Making DIY easy
Technology may play a central role in the DIY store 2.0, but service is still paramount.
Jim Hodkinson, former chief executive of B&Q, says specialist advice is what will draw people into DIY stores rather than simply buying home improvement products online.
Hodkinson, who hired tradesmen as store assistants during his time at B&Q, says having trained specialists in store is still vital.
Robertson agrees: "Customer service is one of the ways you make stores worth visiting. If there's no added value then just buy it at home."
More could be made out of having specialists in store. Many younger shoppers are shunning DIY projects as they feel like do not have the skills to carry them out.
Robertson says to safeguard the future of the sector, retailers need to make DIY seem doable for these home improvement novices.
"There needs to be another step-change in making DIY accessible. You need a whole new generation of product and advice in store that makes people say, 'I'm going to go to store because they'll have a product that's simple and easy to use'."
This means creating products with the amateur in mind and with failsafe instructions (think Ikea's flatpack information), and offering enough expert advice to get people coming to store rather than watching YouTube for DIY guidance.
When it comes to DIY knowhow, millennials are severely lacking.
According to the CORGI HomePlan survey in 2017, 52% of millennials do not know how to hang wallpaper and 43% cannot wire a plug.
"You need to get people to the store and you need a bit of theatre. It can be quite boring in store if there's nothing going on"

Jim Hodkinson
A lack of skills – and a lack of interest in learning these skills – has given rise to a generation that are opting for others for 'do it for me' over DIY.
The survey found 23% of millennials said they would hire a tradesperson every time instead of attempting jobs themselves.
Robertson believes the modern DIY store should help upskill and inspire these DIY dunces and run workshops on everything from tiling to plumbing.
"B&Q did it in the 90s. Every store had a small training area where a tiling expert, who was part of the team, would talk about how to do it. That seems to have died out, which I think is mad," he says.
Hodkinson would also have these workshops in his DIY store 2.0. "You need to get people to the store and you need a bit of theatre. It can be quite boring in store if there's nothing going on," he says.
However, Robertson thinks retailers can go a step further and do one-on-one clinics to prepare customers for projects they plan to undertake. Shoppers could come with a vision or problem to fix and the specialists that work in-store will advise them how to execute it.
By making DIY appealing for the design-minded and accessible for those with limited skills, the sector could build a business fit for millennials and generation Z shoppers.
Retail Reimagined: How traditional formats might look if redesigned today
1

2

3

4

5

6

Currently reading

Retail Reimagined: Building the DIY store 2.0

7

8