Ikea has hailed a year of "solid growth" as the furniture giant prepares to launch a bricks-and-mortar presence in two new markets.
The Swedish business said it was "on track" to become the world's leading multichannel home furnishings retailer after total group sales jumped 7.1% to €34.2bn (£28.96bn) in its 2016 financial year.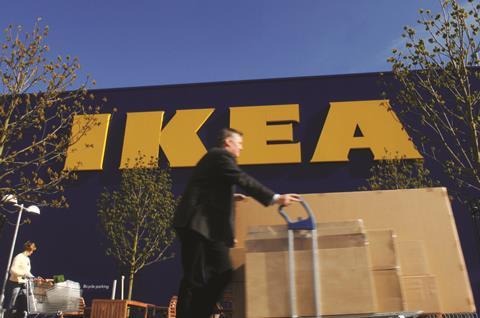 Adjusted for currency impact, total sales grew 7.9%, while like-for-likes advanced 4.8% in the year ending August 31.
Ikea reaffirmed its plans to open maiden stores in India and Serbia during the coming year, while continuing to build its multichannel presence in existing markets.
It already operates around 270 stores in 25 countries, including the US, China, Australia, Canada and Germany, which remains the retailer's largest market after posting another year of "record growth".
Ikea said it was "increasing its focus on integrating physical and digital commerce" to offer its customers more ways of shopping.
Global expansion
The retailer opened 12 stores and 19 of its smaller pick-up and order points across the globe during the year, including its first big-box store in the UK for seven years in Reading.
It has also thrown open the doors at smaller units in Westfield Stratford, Aberdeen, Birmingham, Norwich and Dublin as it bids to open up its proposition to a bigger audience and make shopping more convenient for consumers.
The new store openings helped Ikea drive 783 million customer visits to its stores during the year.
President and chief executive of Ikea Group Peter Agnefjäll said: "In all of our meetings with the customers, we want to provide good quality products and inspiration for creating beautiful homes.
"Last year's focus on the theme 'It starts with the food', covering kitchen, cooking, eating and the food business, was a strong success and appreciated by the customers."
Ikea has continued that theme in the UK after launching a pop-up DIY restaurant and food store in Shoreditch, driving the customer experience and retail theatre.
"In the coming year we will put even more effort in providing a great Ikea-experience for visitors across all channels," Agnefjäll added.