ScS, Topps Tiles, Dunelm and DFS all updated last week – what has this told us about the home and furniture market?
What is clear after the bumper week of updates is that sofa retailers have come out on top.
DFS notched up a record year with sales up 7.5% and EBITDA up 5.8%, meanwhile, ScS edged back into the black and reported a 14.7% increase in like-for-like orders.
DFS chief executive Ian Filby puts the business' consistent progress down to its "tried and tested" growth strategy and the "robustness" of its business model. However, the entire sofa market is holding firm, despite Brexit.
"A high proportion of people buy sofas because they need an upgrade," Filby tells Retail Week. "It's a consistent market, and an affordable way of improving your home."
ScS chief executive David Knight said all elements of the business - sofas, flooring, 28 House of Fraser concessions and online - helped drive its stellar performance.
A tougher summer for Dunelm
But it wasn't good news across all of home and furniture. Dunelm posted a 3.8% dip in like-for-likes as "unusually warm weather" dampened footfall in its first quarter.
Filby agrees and says that "any out-of-town retailer will have a tough time around a hot weekend."
However, there may be other factors at play. Costas Kalisperas, managing director and head of retail at investment bank Moelis & Company says the homewares space has become much more competitive.
"A raft of retailers have made a move into homewares now. Dunelm owned the space quite comfortably for a long while, and then others realised it was an attractive value category," he says.
Fashion retailers such as Zara and H&M have made a push into homewares, and value specialists B&M and The Range are taking market share. Even Matalan opened a standalone homewares store last week.
Sofa shopping is getting easier
While competition is hotting up in the homewares category, there has been no sign of a slowdown in the sofa sector.
"Shopping for sofas is getting easier," Kalisperas remarks, adding that financing options have a significant part to play in sustaining the strength of this market, despite any economic uncertainty.
"Led by DFS, sofa retailers have significantly improved their operations over the past few years, leveraging their financing options and online functionality to make the sofa purchase easier for consumers," he says.
And the deflation of sterling post-EU Referendum vote has led to the cost of holidaying abroad creeping up.
Kalisperas believes people might be opting to do up their homes instead. "You can't pay for a holiday with finance, but you can buy a sofa," he says.
The demand for multichannel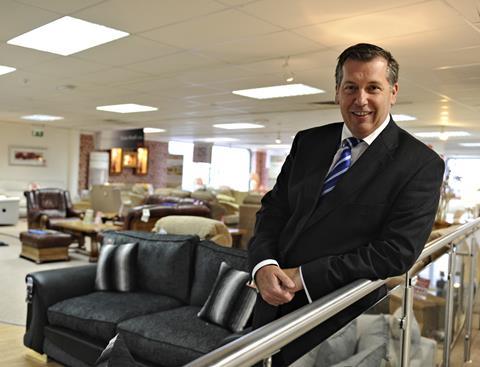 As well as being affordable, furniture buying is also increasingly convenient.
Both ScS and DFS have improved multichannel over the past year. ScS focused on its House of Fraser concession partnership and has appointed new brand development director Elaine Rays to head up the next stage of this operation, and DFS has accelerated its roll out of Dwell shop-in-shops.
DFS has already installed 18 Dwell concessions into its larger stores and believes there is scope for as many as 40. Filby says the shop-in-shops are both a good way of increasing return on store space and have a "halo effect" on its own sofa sales.
Filby acknowledges that the way people are shopping for furniture is evolving and DFS has replatformed its website and invested more in its online imagery.
"The majority of the market use the internet to get information and inspiration, so we've upped investment on how our products look online," he says.
Filby also unveiled plans to open its third DFS small-format store in Crawley in early November. "The store in Bromley has met our expectations so now we want to see if the format can work in more diverse locations," he says.
The growth in online for home shoppers can also be evidenced by Dunelm, which hailed the strenth of its online sales during its slow summer period.
The Brexit effect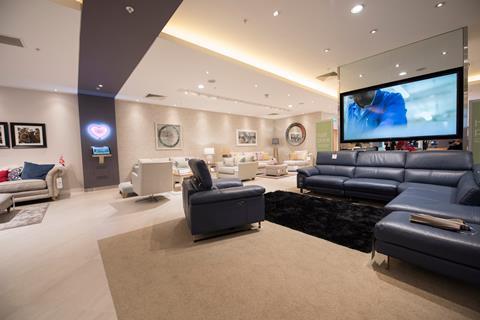 But it's not all rosy for sofa retailers.
DFS and ScS both insisted there was no sign, as of yet, of waning consumer confidence. "Many of our customers will have voted to leave the EU, and will have a bit more money as a result of the living wage coming in," Knight says.
However, ScS finance boss Chris Muir explains that, due to cost inflation from providers, the retailer plans to increase the price of some of its products by around 1%.
Kalisperas believes a dip in confidence could still be on the horizon. "Sterling's fall will impact consumer confidence more once people book their holidays for next year or when retailers need to pass on higher input costs to them in next season's products," he says.
Topps Tiles chief executive Matthew Williams also flagged the incoming impact of falling consumer confidence in the retailer's pre-close update last week.
Williams noted weakened market conditions and "reduced levels of consumer confidence" as like-for-likes growth slowed in its fourth quarter to October 1.
The rapid pace of change
In addition to these potential headwinds, furniture retailing has many new digital retailers, from Made.com to Sofa.com and Loaf.com, vying to steal share.
Kalisperas points out that Made has proven you don't need lots of stores to sell furniture. He says: "With technology, consumers can see how it would look in their home, making the purchase decision easier"
While ScS, DFS and other traditional big-box retailers are busy improving their web platforms and investing in multichannel, pure-play rivals are powering ahead with innovations to capture shoppers without asking them to even leave the couch.
So, while sofa retailers may have come up trumps for now, this is certainly no time for a sit down.