Hobbycraft is stepping up its multichannel strategy after investment in improved ecommerce capabilities.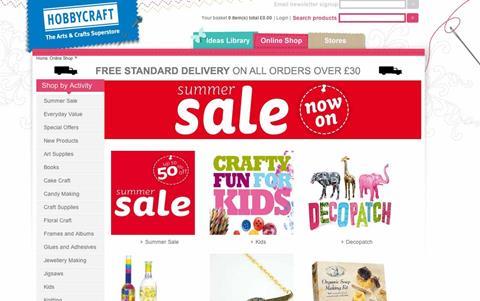 The investment, as well as spending on store development and a new distribution centre, hit the crafts specialist's earnings last year. However, chief executive Catriona Marshall said it would allow the retailer to capitalise on growth opportunities. Hobbycraft posted a £2.1m fall in EBITDA to £13.5m in the year to February 24, but sales surged 12% to £119.1m. The retailer had a year-end cash balance of £9.2m.
Hobbycraft, which has 75 shops, invested £11m in store development, £3m in consolidating distribution to a single warehouse and £3m in systems and ecommerce.
Its website relaunched this summer. Marshall said: "We're pleased with the results. Last year was all about investing in infrastructure and I'm delighted with the cash balance at the end of the year."
A click-and-collect service launched two weeks ago.
The retailer is introducing responsive web design - enabling its site to adapt to different screen sizes - before Christmas to make it mobile-friendly.
Marshall said that because of investment in its systems Hobbycraft can adapt to new technology with ease and speed.
Trading at the retailer has been "good" since year-end but that at times consumers preferred to enjoy the hot weather rather than shop, Marshall said.