"This is a bit different to the old Tesco House" were the understated words of Tesco boss Dave Lewis as he unveiled the grocer's newest head office building.
Heart, as the shop has arguably been cringe-worthily christened, was initially only the project title for what is an impressive premises. But Tesco employees at Welwyn Garden City voted to retain the name, based on what it represents.
There are eight other buildings on the Tesco campus. "Heart brings them all together," Lewis says. "It completes the relocation from Cheshunt to Welwyn."
In that sense, Tesco's new beating Heart represents both a physical and metaphorical manifestation of the journey the grocer has been on since Lewis took the helm in September 2014.
This is a far cry from the Tesco of four years ago – a bruised, battered business that had lost sight of its core purpose, was working with suppliers for commercial rather than customer-focused gains and had been left bereft of confidence following a slew of profit warnings.
Lewis has worked just as hard to restore trust in the brand among shoppers, suppliers and staff as he has to rebuild profitability, and its new state-of-the-art Heart building captures everything the grocer is doing right under his stewardship.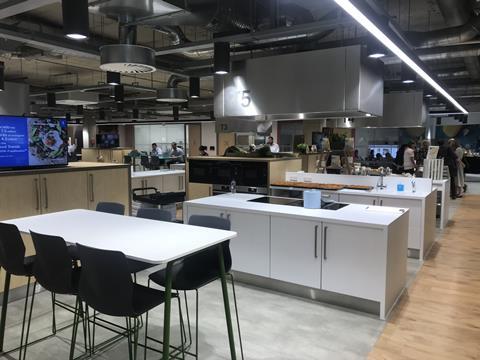 More than a dozen tasting kitchens allow Tesco's chefs to continually innovate in product, comparing its recipes to those of proprietary brands and grocery rivals to ensure the quality of its food measures up.
A first-floor restaurant serves up lunch and dinner options on a daily basis, often dishes that Tesco is testing with a view to launching as new products and ready meals in its shops.
Tesco is also in talks with the local authority to turn its outdoor green space into an 'edible garden', which would give it the capability to grow even more of its own produce to use on-site and stock on shelves.
That is just one of the ways Tesco is looking to innovate. In an Express c-store in the Heart building, 'cashless' payment methods such as card-only checkouts and a 'scan and go' smartphone app are being tested by 100 of its head office employees.
Lewis boasts that Tesco has never had such a clear pathway from the sewing of seeds to stocking in-store. The grocer would be able take produce from its garden to the kitchen, to the restaurant and finally to store, all within Heart.
Laying down a marker
There are further benefits to this new multi-million-pound facility.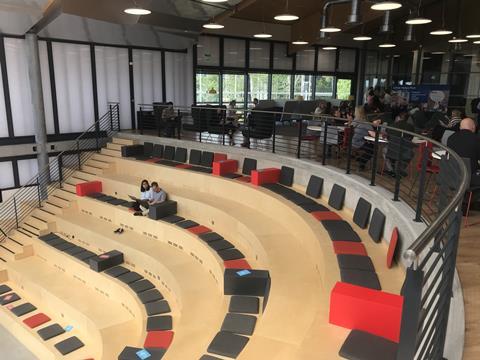 Amphitheatre-style seating provides a space for informal presentations to take place. Indeed, it was from here that Lewis, dressed casually in a white shirt and dark jeans, addressed the assembled media crowd ahead of Thursday's tour.
A large innovation space can be hired out by various teams to test new products, while a first-floor learning area offers breakout seating areas and large interactive screens where Tesco's young apprentices regularly come to further their development.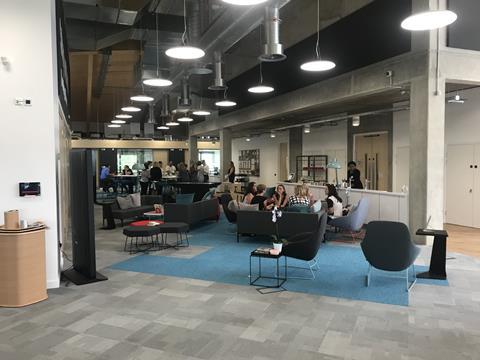 Health and wellbeing is also front of mind – there is a Nuffield Health-operated gym available for all employees to use.
While many of these new additions to its head office campus are far from unique to the Tesco business, their introduction marks an important milestone in its turnaround and lays down a marker to its grocery rivals.
The Heart building crystallises the view that Tesco has left its past firmly behind it and is now truly on the front foot in its drive to build a retailer fit for the future.
Innovation, flexible working and employee wellbeing are themes that cropped up time and time again during the tour.
I suspect none of those would have been anywhere near as high on the agenda of Philip Clarke, Lewis's predecessor, but they are combining to good effect to fuel a re-energised Tesco engine.
The core message – serving Britain's shoppers a little better every day – stands out on the walls of the building to emphasise its rediscovered sense of purpose as a consumer champion.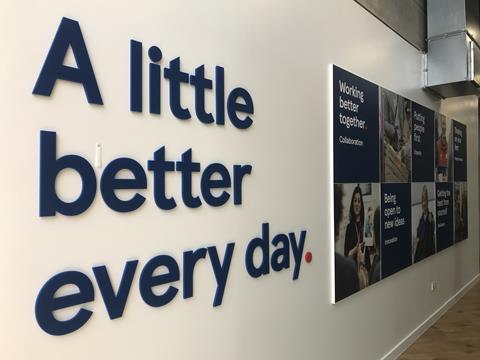 And a separate message for staff hammers home how they can work 'a little better every day' through five key pillars of collaboration, innovation, empathy, resilience and responsiveness.
With those core foundations in place, it becomes a little easier to see why Lewis is "not at all concerned" about the looming threat of a Sainsbury's-Asda combination knocking Tesco off its perch as the UK's biggest grocer.
"If we, as Tesco, focus on what it is we do and keep doing it better, we are not worried," Lewis insists.
Through its leader, its strategy and now its new building, Tesco has demonstrated it has the Heart for the fight.
Luke Tugby is deputy editor at Retail Week.