Waitrose has notched up a record grocery market share as its sales outperformed the market, the latest Kantar data showed.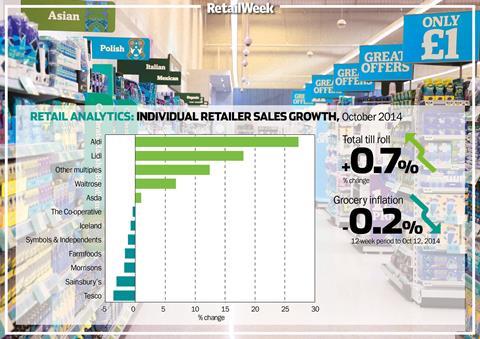 Waitrose's share stood at 5.2% in the 12 weeks to October 12, when sales climbed 6.8%.
Waitrose's performance was in contrast to that of bigger rivals such as Tesco and Sainsbury's, and came as like-for-like prices across the grocery sector fell 0.2% amid the food price war.
Among the big four Asda was the winner according to Kantar. Asda's sales rose 1% and it held a market share of 17.3% - up from 17.2% year on year.
Value grocer Aldi's growth decelerated a little in the period, said Kantar Worldpanel head of retail and consumer insight Fraser McKevitt, but its sales still rose 27% giving it a market share of 4.8%.