Waitrose has unveiled a "game-changing" personalised marketing initiative as part of the latest move in the supermarket price war.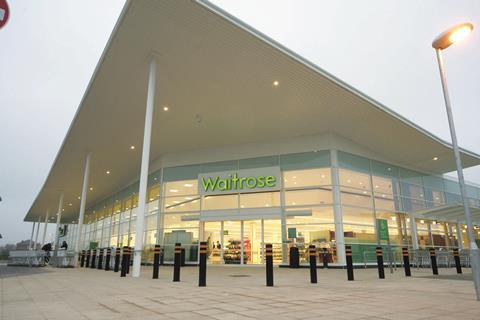 Waitrose shoppers can hand-pick goods to receive a 20% discount
Boss Mark Price lauds "ground-breaking" initiative
Scheme integral to its fightback after market share slipped below Aldi
The upmarket grocer has launched a scheme that will allow shoppers to hand-pick which groceries they save money on every time they shop in-store or online. It said the initiative is "a worldwide first".
The Pick Your Own Offers project means myWaitrose loyalty cardholders can select 10 products that they would like to save 20% on. Customers can hand-pick their 10 products from a list of 1,000 own-label and branded goods, which includes staple basket items including fruit, vegetables, bacon and eggs, alongside more "special" treats.
The move came hours after grocery rival the Co-op revealed a fresh £125m investment to slash the price of more than 100 lines across its 2,800 stores.
Waitrose bosses said the scheme has been designed to "promote brand loyalty" after its big four rivals saw their customers flock to the discounters in their droves to take advantage of lower price points.
Earlier this year, Kantar Worldpanel data revealed that Aldi had overtaken Waitrose to become the sixth biggest grocer in the UK.
Personalised marketing
Waitrose managing director Mark Price admitted the move was "a gamble" and said it could cost the grocer "£5m a week or more". He based his estimate on 20% of the grocer's 5.7 million myWaitrose customers saving an average of £5 a week on their baskets.
But he added: "What you are placing an educated bet on is that this will drive greater loyalty to Waitrose. As a consequence of that, you will get more shoppers, they will spend more with you and that will offset the cost of doing it.
"It's the gamble that we took when we launched Essential Waitrose and it's the gamble we took when we launched free coffee and tea [with a myWaitrose card].
"We have sustained our performance because we made some educated bets and this is no different. My hope is that customers think this is a wonderful thing to get 20% of lines compared to the price of some of our competitors.
"This is a ground-breaking move giving customers the power to choose the offers they want.
"We know from the success of myWaitrose that customers like straightforward deals they can trust that are relevant to them. Pick Your Own Offers goes one step further by putting them in control.
"Customers can choose what's valuable to them when they shop for groceries. We really are giving power to the consumer"

Mark Price, Waitrose
"Different forms of personalised marketing have been around since the 1990s, but we're introducing mass customisation in grocery. Customers can choose what's valuable to them when they shop for groceries. We really are giving power to the consumer."
Supplier support
Price added that the "genius" initiative had been "heavily supported" by suppliers, following a trial in 20 stores around the UK.
He said that customers would still be able to benefit from additional multi-buy offers in store and insisted that Waitrose would not be dropping its promotional spend following the introduction of the new scheme.
"This is a world first and is truly revolutionary," Price added. "All the suppliers we approached bit our hand off to do it and I suspect that everybody will now want to do it.
"There is a real degree of confusion among consumers about where the value lies with promotions and for the first time this is going to give them the holy grail of being able to choose their own offers.
"I think we could see a huge change in the mindset of how promotions are done."
Contacting customers
Waitrose will now email 4m of its myWaitrose card holders to explain the new scheme.
To select the 10 products they want to save money on, customers will be required to sign up to Waitrose.com or log into their existing account. They will then be able to select their initial 10 products.
Once confirmed, that selection will remain fixed for a set period, with first selections remaining in place until "the end of summer", the grocer said.
Each time myWaitrose card holders purchase one of the 10 pre-selected items and swipe their card at the checkout, the 20% discount will automatically be applied to their bill.
Pick Your Own Offers went live today and Waitrose is offering customers an additional £6 off a £60 shop if they sign up to the scheme by July 7.
Waitrose said it will continue to run its Brand Price Match alongside the new scheme, matching Tesco on the price of branded products.