Waitrose boss Mark Price said changes in food shopping habits poses a dilemma for the big four as he unveils Waitrose's Food & Drink Report 2014.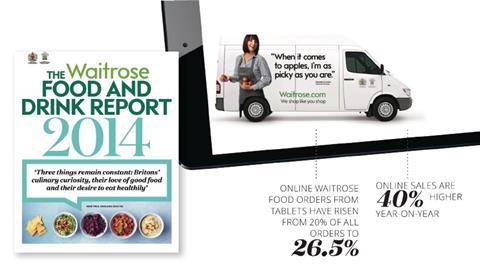 He said that time-poor shoppers are shopping little and often by increasingly using convenience shops or grabbing breakfast on the move, yet four in 10 Brits say weekends are now more of a food event as family and friends gather to experiment with cooking.
"The real issue for Tesco, Morrisons and Sainsbury's is not so much the discounters, it's that people are shopping differently," he said. "They want luxurious top-end food from around the world but then they are thrifty and are looking for good value in pre-prepared food."
The report also found that Britons have developed more cosmopolitan tastebuds and are finding food inspiration through social media.
Price said UK shoppers are becoming more cosmopolitan, and has tipped Peruvian food to be big next year. Over the past year exotic fruit sales surged 81% online and sales of Italian aperitif Aperol rocketed 800%, according to Waitrose's Food & Drink Report 2014.
Waitrose is vying to capitalise on this trend by introducing more exotic lines as well as healthier ranges, which are also driving consumers' buying decisions.
Events such as the World Cup in Brazil, the Eurovision Song Contest and TV programme The Great British Bake Off are inspiring what people eat and cook.
Price said that Waitrose is trying to make events such as Wimbledon and the Ashes more culinary-orientated. He said it was already having success - sales of its Halloween range are up 20% year-on-year.
Social media is also becoming increasingly influential for food choices. The most popular Waitrose-related topics on Twitter and Facebook include 'Heston', 'gluten-free', 'cheese', 'Mother's Day' and 'coffee', according to Waitrose's second annual look at what the public are eating.
Meanwhile, quinoa features a staggering 540,000 times on Instagram alone.