Threshers owner First Quench Retailing has plunged into administration.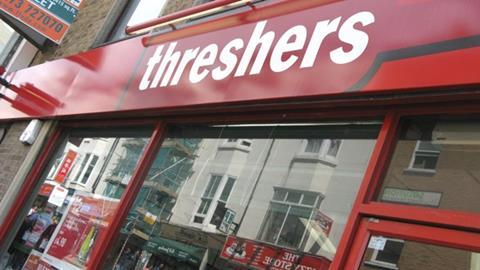 In a statement, First Quench said: "The board of FQR confirms that it has appointed KPMG as administrator this evening. The board's discussions with KPMG confirm that the best prospects for the business is a sale as a going concern thereby preserving as many jobs as possible.
"It is with great regret that the board was not able to brief our colleagues prior to it being made public in the media. This was always our intention but, unfortunately, the news leaked. There is a full programme of communication which will commence from Friday morning to our colleagues.
"The administrators have confirmed that they will be seeking to operate the business as normal whilst seeking a sale as a going concern and this will include meeting next week's payroll."
As revealed by Retail Week, First Quench – which owns Threshers, Wine Rack and The Local – had been in talks with KPMG about restructuring options.
It is thought that non-executive director John Cleland is waiting in the wings to scoop up the scaled down business. Formerly at Somerfield, Cleland was parachuted in recently by the beleagued off licence group.
Threshers has around 1,300 stores but it is understood that the group wants to ditch around 600 of the stores and axe The Local fascia. It is thought that the management - led by Cleland - will seek to buy back the best performing stores and run the new business.