Following his initiation into the school of retail, Dave Lewis tasked himself with three key assignments to drive Tesco to the top of the class.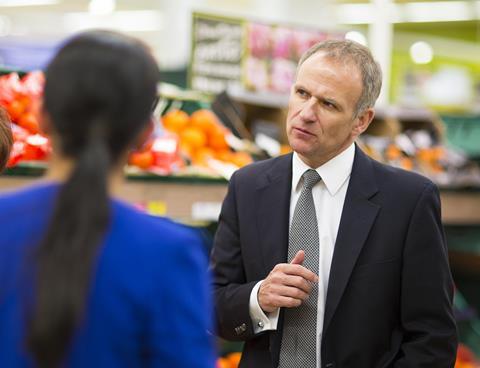 His first subject centred on regaining competitiveness in its core UK business to woo disillusioned customers back from its competitors and recover dwindling sales.
But equally central to Lewis's grocery curriculum was the need to protect and strengthen a battered balance sheet and rebuild trust and transparency in the supermarket giant, both of which had been eroded by a series of profit warnings, the £263m accounting scandal and damaging claims about its relationship with suppliers.
After passing those tests, Shore Capital analyst Clive Black grades Lewis's progress – and suggests areas where more homework may need to be done.
Regaining competitiveness in the UK business
√ Investing in price and improving availability
√ Hiring 5,000 in-store staff to drive customer service
√ Simpler store management structures
√ Drafting in new board members
X Trading remains slower than Lewis would like
Dave Lewis correctly identified the core chain as the heartbeat of the Tesco group. However, the arteries around the central drive of the business have been clogged up for some time and the process of cleansing them requires a lot of complex surgery.
To undertake such an operation also needs a good team of surgeons, which we believe has been put together well. The job at hand is not taking place within a vacuum though, and as such Tesco UK needs to run faster to stand still.
Much good thinking and work has been undertaken in the process of simplifying Tesco to make it a more effective business but so much more work needs to be done.
We sense that trade is slower than Lewis would like, as the rest of the sector finds too, putting pressure on delivery.
We give top marks for Lewis's assessment of the situation, team building and core priorities. In-store it has resulted in good scores for base execution but more middling points for top-line delivery. Remember though that Tesco is 12 months into a 48 to 60-month project.
Grade: B
Protecting and strengthening the balance sheet
√ Reducing capital expenditure
√ Reshaping Tesco's non-core portfolio
√ Exiting loss-making stores and shelving store openings
√ Taking full ownership of 21 superstores from British Land
X Dunnhumby sale rumbling on
Lewis and chief financial officer Alan Stewart give confidence of control being regained at Tesco, a business that was firmly asunder.
Management has also been clear that it has structural leverage problems of an operational (lease and pension costs) and financial nature (debt). These amount to over £20bn.
With the collapse of EBITDA, the burden of leverage is now a strategic priority. Management has been fundamentally sound on this area, quickly making sure that liquidity was in place so that the group did not have to look over its shoulder, commencing discussions with the pension stakeholders and moving quickly to capture a mutually beneficial deal with British Land.
But the strategy remains unclear in its method – we still do not know if an equity raise will ensue, while the plan to sell Dunnhumby is seemingly dragging on. Tesco has also never formally confirmed a process to dispose of its South Korean business, which, if it does, will constitute a poor form of communication all round.
So, on the balance sheet work, satisfactory progress has been made, but there is much more still to do.
Grade: B-
Rebuilding trust and transparency
√ Adopting a new code of conduct
√ Simplifying its relationship with suppliers and introducing a helpline
√ Disclosing its commercial income
X No communication over potential sale of Korean business
X Uncertainty over whether a rights issue is planned
We give top marks to Lewis for bringing control to Tesco. The achievement here should not be under-estimated, as he entered a business in chaos. His calm, collected and considered approach had deservedly drawn much approval.
From that base, tough decisions have been taken, which have again earned plaudits from the simplification of chronically complex supplier engagement to a streamlined management team.
Tesco's reputation took a battering, but bit by bit, day by day, colleague by colleague, we feel that the business is quietly moving on with simplification and is creating the foundations for trust to be rebuilt.
Transparency has also improved albeit, perhaps ironically, we do not know Lewis's plans or vision for Tesco, we do not know if it is selling Korea, we do not know if a rights issue is planned.
We would give high marks for the calm brought to chaos, but as with the other priorities, much more will be achieved for all stakeholders if high scores can be delivered in years two, three and four.
Grade: A-
Overall grade: B