Tesco sales rise 1.4% in 12 weeks to October 8
The grocer has grown its market share for the first time in five years
Asda's woes continue as sales slide 5.1%
Tesco's resurgence is continuing as the grocer recorded its best quarterly sales rise in years, according to latest industry figures.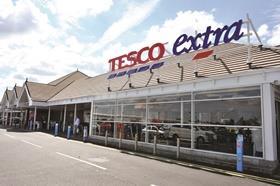 In the 12 weeks to October 8, the amount Tesco took at the till rose 1.4% year-on-year, market monitor Nielsen reported today.
The last time the increase was higher was in autumn 2013, when the grocer's sales rose 2.3% in the 12 weeks to September 14.
"Tesco has started to attract new shoppers again, with two thirds of households visiting them in the last four weeks," said Nielsen's UK head of retailer and business insight Mike Watkins.
Kantar data told a similar story. Kantar found Tesco also increased its market share 10 basis points to 28.2% during the 12 weeks to October 9, representing its first market share growth in five years.
Tesco was the only one of the big four to see an increase in sales in the latest period, as Walmart-owned Asda suffered again.
Tesco's recovery under boss Dave Lewis, who has focused on streamlining the business and on retail basics, was reinforced earlier this month when it reported a 0.6% rise in UK half-year like-for-likes.
Watkins added: "They [Tesco] are well placed to benefit from the 'little-and-often' mode of shopping behaviour which we see as a key driver of future growth across the entire industry."
Other three down
Sainsbury's sales in the 12 weeks slid 0.6%, while Morrisons' sales fell 3.2%. Asda's woes continued with sales falling 5.1%, according to Nielsen.
Aldi remained the pace-setter as sales jumped 13.2%. German discount rival Lidl's sales increased 4.1%, according to the figures.
Watkins said overall industry momentum was driven by further price cuts despite a slowdown due to the September heatwave.
He added: "While currency-related cost price increases are casting a shadow over next year, the supermarket price war will keep retail prices in check for the time being.
"Retailers with a multi-format or multi-channel proposition are well placed to gain new shoppers and incremental spend, particularly when food sales are under increasing pressure from the discounters and, now, Amazon."
Whilst the remainder of the Big Four suffered, The Co-op's sales rose for the 17th consecutive week, according to Kantar Worldpanel.
Head of retail Fraser McKevitt said: "Co-op's sales are up by 3.1% compared to a year ago, taking share up to 6.5% of the market.
"Consumers are continuing to buy from Co-op stores more frequently with the average shopper now visiting almost twice a week – an 8% increase."