As Dave Lewis' turnaround of Tesco nears completion, he is turning attention to new growth opportunities. Retail Week looks at where he is focusing his energy.
When Tesco chief executive Dave Lewis said in April that the grocer had met the targets he set after being parachuted in on a rescue mission, the obvious question was what comes next.
After pulling Tesco from the quagmire into which it had sunk, observers wondered whether Lewis would switch to cruise mode and trundle steadily along, or whether he would keep his foot on the pedal and further accelerate performance.
The answer came this week when Tesco held an investor day outlining its future direction.
"Own-brand and the loyalty scheme, Lewis observed, 'need little or no capital'"
The focus is on "untapped value opportunities", Lewis says, that will "develop the business even further as we enter a new phase of transformation".
While he detailed how Tesco can bring costs down more or still improve its margin mix, the biggest opportunities come from even greater customer focus; the retailer has many options open to it, building on its already-in-place foundations.
He identified own-brand and enhancing the appeal of Clubcard as prime customer magnets.
"The things that always deserve most attention are those where we can do most for the customer," Lewis said. And own-brand and the loyalty scheme, he observed, "need little or no capital".
Launching new brands
While the possibility of a new store format built upon Tesco's Finest brand has made headlines, that is at present an idea rather than a certainty. Most work is likely to be on new brands and opportunities that could sell across the estate.
New own-labels – such as Farm Brands and Exclusively at Tesco in food, or Fox & Ivy in homewares – generated sales of £1bn within 12 months of launch versus £200m over that period from launches with FMCG brands.
An area of focus at present is vegan food. Wicked Kitchen, which is prepared exclusively for Tesco, has shifted 9 million units since its launch last year to become a £26m brand.
A similar new brand, Plant Chef, will be launched soon and Tesco sees an opportunity to seize "plant-based category leadership with over 300 lines".
Making the most of Clubcard
Alongside enticing product, Tesco aims to build relationships with customers by making more of Clubcard. Although there are 19 million members of the loyalty scheme, up by 1 million over the past year, many do not make the most of the benefits on offer.
"Awareness of what's available is quite low and there's an opportunity," said Lewis.
Tesco tried out a Clubcard 'member pricing' promotion in May, offering discounts on 200 products. More such initiatives are likely, and the introduction of a subscription model for members is also possible.
Shore Capital analyst Clive Black welcomed the initiatives but also raised a question. He said in a note: "We will watch this with interest alongside the issue of democratisation for a mass-market grocer with respect to exclusive Clubcard pricing, where we see dangers as well as opportunities."
Ecommerce leadership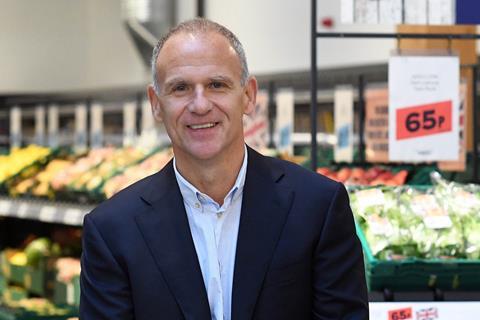 Tesco will also bolster customer appeal through in-store changes. There has been, for instance, reconfiguration of general merchandise, and a reduction of SKUs opens the door to the creation of 'urban fulfilment centres' that make use of space released in larger stores and boosts Tesco's multichannel capabilities.
The first such centre will open in the next 12 months and will enable Tesco to fulfil grocery orders more quickly and efficiently in urban areas by picking from the back of the store and the shopfloor itself.
As well as manual picking, it allows 'velocity-based picking' using new technology and could deploy, in addition to the standard vans, delivery by robots, as has been tested in Milton Keynes with Starship Technologies.
Bernstein analyst Bruno Monteyne says: "My biggest positive surprise from all the presentations [is] that Tesco is coming back to ecommerce and technology leadership. Tesco has been quiet on grocery ecommerce, growing below the market for several years as they rebuilt profitability.
"Tesco online is back to profitability, not as profitable as the group's 3.5% margins, but back at the level where it makes economic sense.
"They are now making a big step-change in technology platform, deploying back-of-store picking for fast movers, deploying micro automated fulfilment centres, expanding their market to click-and-collect, immediacy grocery, etc.
"Very much like Ahold-Delhaize they are step-changing their capability to drive both growth and profits in grocery ecommerce and entering new segments of ecommerce."
On the tech front, Lewis says Tesco "very deliberately did not do a shiny presentation for PR benefit" but has concentrated on applied technology that can be used at scale and is cost-effective.
Black concluded after the investor day: "Our key takeaway is that there is a quiet, data-driven revolution underway at Tesco, where a management team post-recovery is focusing upon pulling a myriad of levers to engineer 'significant opportunities for long-term sustainable competitive growth.'"
Lewis is confident that Tesco can keep up momentum. He said: "Not everything we shared will happen, but there are many more ways to develop our business."