Supermarkets are failing to co-operate with efforts to tackle poisonous bacteria found in chicken, according to an industry watchdog.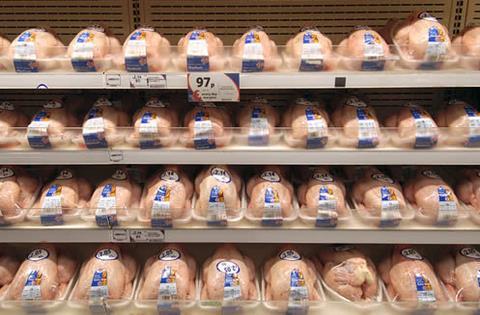 A board member of the Food Standards Agency said that efforts from grocers to tackle campylobacter, the UK's most common cause of food poisoning, were "unacceptable."
The watchdog revealed that up to 79% of raw birds on sale in supermarkets are contaminated with the bacteria, but said Asda, Tesco, Sainsbury's, Morrisons, Waitrose and the Co-op are all failing to address the problem.
Only Marks & Spencer is providing regular updates on its progress, FSA board member professor Paul Wiles told the Daily Mail.
Wiles said: "In terms of the scientific evidence and how to reduce campylobacter that is not acceptable."
FSA chief executive Catherine Brown added that supermarkets had "pushed back" against providing information. She added that the grocers were unhappy about the FSA's publication of campylobacter league tables that compared supermarkets' performance.
Andrew Opie of the British Retail Consortium told the Daily Mail: "We are surprised to hear this. As Catherine Brown would know her officials are meeting experts from the major retailers regularly through the Acting on Campylobacter Together campaign.
"This is when we share details of progress in the various pilots we are sponsoring."
The Co-op said it met the FSA last month to discuss its action plan, while other stores, including the big four grocers, all insisted that they were co-operating.
An FSA expose last yearrevealed that campylobacter, a major cause of food poisoning, is present on the external packaging of thousands of fresh whole chickens sold in Britain each day.
Around 280,000 cases of food poisoning each year are associated with campylobacter, which can cause diarrhea and stomach pains.