Sainsbury's has reported underlying pre-tax profit up 5.3% to £798m in the year to March 15 as chief executive Justin King prepares to leave.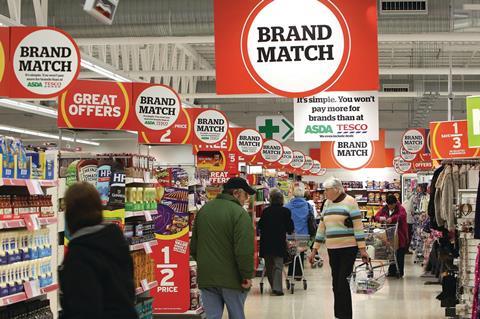 Underlying group sales were up 2.8% to £26.35bn while retail sales were up 2.7%. Like-for-like sales including VAT and excluding petrol were up 0.2%.
Like-for-like sales excluding petrol reduced from 1.4% in the first half to a decline of 1.1% in the second half. Like-for-like growth slowed to 0.2% in the third quarter, due to the tough sales environment. Like-for-likes fell 3.1% in the fourth quarter, as it annualised its strong performance on the previous year, Sainsbury's said. In its fourth quarter in 2013 the grocer grew sales as its rivals floundered amid the horsemeat crisis.
Sainsbury's said it expects 2014/15 like-for-like sales to be similar to 2013/14.
Outgoing boss King said: "While the general economic outlook is showing some signs of improvement, conditions in the food retail sector are likely to remain challenging for the foreseeable future as customers continue to spend cautiously.
"We remain committed to investing for the future and continue to see significant opportunities for growth. We remain confident that our differentiated offer, supported by the 'value of values', Nectar data and Brand Match, will allow us to outperform our peers in the year ahead."
Sainsbury's said in both sales and volumes, own-brand is growing at over twice the rate of branded goods. Top-end Taste the Difference is recording double-digit growth and has achieved over £1.1bn in annual sales.
Its non-food general merchandise and clothing sales are growing at over twice the rate of food, and the Tu clothing brand now generates annual sales of around £750m.
The grocer's convenience arm has recorded sales growth of around 19%, while at its online grocery business sales were up over 12% and achieved over £1bn in annual sales.
King said the "changes in consumer behaviour we began to see a few years ago are now entrenched, with increasingly savvy shoppers shopping more frequently, topping up their supermarket and online shop in convenience stores and discounters throughout the week to manage their budget and food waste".
He said the UK grocery market remains "intensely competitive" and "the lack of volume growth means that retailers must work harder than ever to attract and retain customers". He said while the growth of the discounters has put pressure on the big four grocers leading to a "high level of price investment", customers still "value quality, freshness and provenance when choosing where to shop".
King said Sainsbury's maintained market share at 16.8% despite the growth of the discounters, outperforming its big four peers.
Sainsbury's said it does not expect profit consensus for 2014/2015 to change, with the consensus being £762m.
Sainsbury's acquired the remaining 50% shareholding of Sainsbury's Bank from Lloyds Banking Group in January. It will seek to increase the number of Bank customers and enhance loyalty.
In the entertainment sector, Sainsbury's has moved to an on-demand model for its website, while continuing to sell physical products in its supermarkets. It said it is trialling several initiatives with eBooks by Sainsbury's such as offering free ebooks to those buying the physical product.
Sainsbury's full-year profits up 5.3% as boss Justin King prepares to bow out
1

Currently reading

Sainsbury's full-year profits up 5.3% as boss Justin King prepares to bow out

2

3

4

5