Sainsbury's like-for-like sales fell 2.1% in the 12 weeks ending June 6 amid food price deflation and the ongoing supermarket price war.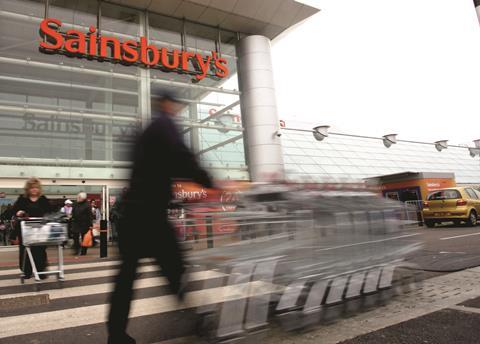 Sainsbury's continues to beat its supermarket peers: -2.1% like-for-likes is better than Morrisons (-2.9% like for like) and Asda (-3.9%) and better than the expected -3% at Tesco.
Although on a standalone basis, -2.1% like-for-like is not a good result, it is in line with inflation and continues to be better than peers, and therefore Sainsbury's is not suffering the relative operational deleveraging that its peers suffered last year and the associated margin decline.
The standard bear case for Sainsbury's is that it will suffer margin decline while Morrisons and Tesco will expand margin. With the best like-for-like, its own cost-saving programme and not operational deleveraging, this bear case does not have much weight.
Bruno Monteyne, senior analyst at Bernstein
-
The rate of food price deflation has increased in the quarter, but even after this it indicates a small gain in overall volume, despite basket size and potential customer numbers being under pressure in larger regional stores. We believe Sainsbury's convenience stores continue to outperform the market, although no figure was given for the first quarter.
The first-quarter sales figures on a two-year like-for-like basis were down 3.2% and negative for the first time on a four-year basis (-1.1%). The implication of this trend is that we are, in our view, close to the bottom of the cycle in grocery retail and in a similar position to the end of the 1989-92 recession cycle, when discounters were making strong inroads into the UK market.
Mike Dennis, food analyst at Cantor Fitzgerald
-
Sainsbury's trading is in line or perhaps a touch ahead of competitors at the moment and we continue to think that Sainsbury's customer proposition is probably the strongest of the big four right now. However, we believe competitors will maintain a higher rate of incremental investment in the customer offer than Sainsbury's and will close the gap. Over time we expect this to starve Sainsbury's of positive operational gearing and will force it to invest some of its industry-leading margin to respond.
James Collins, analyst at Stifel
-
With Sainsbury's latest fall in like-for-like sales of 2.1%, Mike Coupe finds himself under tremendous pressure, particularly in light of his comments in March when he boldly claimed that Sainsbury's was beginning to see some "green shoots of recovery." The reality of the situation so far is that Sainsbury's turnaround strategy has not stopped profits heading south.
Today's figures indicate that Sainsbury's has been further derailed by an improved situation at Tesco, as well as increased price deflation which is damaging Sainsbury's profitability. While Tesco sits firmly on track to maintain its profit targets for the remainder of the year, questions have to be asked over whether Sainsbury's is following the correct long-term strategy with continued aggressive vouchering and cost-cutting showing little effect.
Julie Palmer, partner at Begbies Traynor
-
Sainsbury's is solid, but isn't dynamic and lacks the relative force and drive it had a year ago. It has a broad and varied store portfolio, able to compete in most markets. They just need to re-establish the compelling reason to shop at Sainsbury's, which was always about quality. They still have that quality, they just don't shout about it anymore.

Although there is much talk of the rise of Lidl and Aldi, Sainsbury's biggest threat is from a resurgent Tesco. Mike Coupe took over Sainsbury's just as the grocery market was changing and prices had started to be affected by deflation. That would have been a good time to revisit market positioning, but we are still waiting.
Phil Dorrell, partner at Retail Remedy