Sainsbury's is considering appealing the Advertising Standards Authority's (ASA) decision on Tesco's Price Promise after its hopes that its arch-rival's ads would be banned were quashed this week.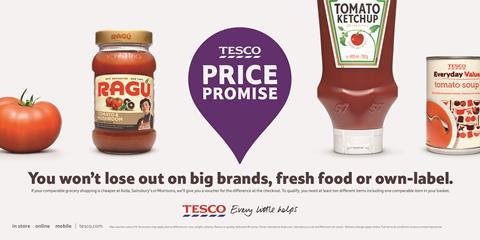 Sainsbury's today launched national press advertising to highlight the differences between its products and Tesco's. The latter hit back against criticism.
A Sainsbury's spokeswoman said the grocer is now "considering options" about next steps.
The Tesco Price Promise, introduced in March, met opposition from Sainsbury's and Morrisons.
They believe comparisons between Tesco's own-brand products and theirs are unfair because issues such as product provenance are not sufficiently taken into account.
Sainsbury's ads, run under the strapline 'Same price, different values', make distinctions between items such as Tesco's EU-sourced ham and Sainsbury's UK-sourced product. The ads say: "They cost exactly the same. But it's what you can't see that makes the difference."
The ASA said Tesco had "objectively compared price" and made it clear "that some products would be excluded from the comparison".
Morrisons said talks with Tesco over prices it believes have not been fairly matched are ongoing.