Sainsbury's chairman David Tyler bade a fond farewell to departing chief executive Justin King at the grocer's AGM today, and told shareholders that his departure does not mean the end of the success story.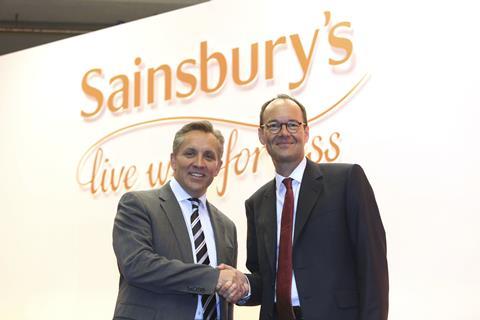 Tyler said King had nurtured the "finest team in retail" and the succession to new chief executive Mike Coupe marked the beginning of a new chapter.
"Mike and Justin have worked together for a decade and have known each other for 20 and both are very experienced retailers," said Tyler.
Tyler, himself one of the most successful retailers in modern times after helping transform Gus and Burberry, added: "While they differ in style and approach, the one thing that they both have in common is a single-minded focus on placing the needs of the customer first."
King stepped down today after 10 years leading the retailer. During that time he tripled underlying profits to £756m in 2012/13, grew sales from £16.1bn to £25.6bn and added an extra 10 million customers shopping at Sainsbury's per week. King said it was an "honour to lead the business", adding that he "leaves it in safe hands".
Coupe also paid tribute to his predecessor. He said: "Justin's passion for our business, and dedication to serving our customers and colleagues has served as an inspiration." He said he is "proud to build on the legacy" King created.
Shore Capital analyst Clive Black said: "Justin took a business that was in turmoil, stabilised it and grew it from there. He took it back to its original values and reconnected with the customer." He added that his track record through the deep recession in terms of market share gains is "outstanding".
He added: "In 2007, after the collapse of Northern Rock, if you'd have said that Sainsbury's would outperform Tesco, Asda and Morrisons, then everyone would have thought you'd been captured by the men with white coats."
Life president Lord Sainsbury also congratulated King on his achievements, saying: "Thank you for your hard work, and thank you for making Sainsbury's great again."
Coupe, who has worked with King for the majority of his time at Sainsbury's and has been a key player in its strategy, takes over at a difficult time. In March Sainsbury's reported its first quarterly like-for-like fall in nine years, in the face of the most challenging times grocers have seen for 30 years.
Black said the majority of the challenges Coupe faces are "outside of the business". He said: "There is huge structural change in the industry with online, convenience, and the discounters, and consumer demand is very low."
He added that with the margin pressure due to the rise of the discounters, Sainsbury's "needs to keep up without polluting its brand, which is why Netto could be an inspired deal". Sainsbury's has inked a joint venture with Netto to open 15 stores by the end of next year.
Black said: "He [Mike] has been handed a very challenging set of cards, but most of that is because of the wider sector. Justin leaves a good business, but Mike's challenges are only just beginning."