Sainsbury's boss Mike Coupe believes the grocery price war will become "more intense" as supermarket giants continue their fightback against discounters.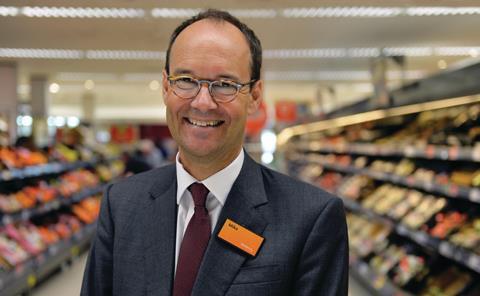 Coupe said there was an "intensely competitive dynamic" in the industry, with falling commodity prices driving grocery prices down further.
In November Sainsbury's pledged to invest £150m in price in a bid to compete with the discounters and Coupe said that almost half of this would be invested in its first quarter of its new financial year.
The other half was invested during the grocer's fourth quarter, when it reported a slump in like-for-like sales for the fifth consecutive quarter.
Sainsbury's like-for-like sales excluding fuel dipped 1.9% in the 10 weeks to March 14, but Coupe said the 1,100 products that had benefited from price reductions saw an average uplift in sales of 3% during the period.
"I wouldn't completely rule out the idea that price competition will get more intense rather than less intense over the next period of time."

Mike Coupe, Sainsbury's
But Coupe said Sainsbury's would "continue to talk our own game" amid a Tesco sales fightback.
He said: "The important thing for us is to get on and make sure that we execute the plan that we put in place in November and we are beginning to see some positive signs.
"We are seeing volume improvements and we are seeing like-for-like transaction improvements. That's against a heavily deflationary backdrop. In the last quarter we saw deflation between -0.5% and -1%. In this quarter we have seen deflation in food at -2.5%.
"The reality is there is no reason to believe that won't be any different for the rest of this calendar year and even, you could argue, into next year.
"Commodity prices have fallen and therefore those are reflected in retail prices and also the level of price competition we're seeing in the marketplace.
"I don't expect any respite any time soon and of course there's a very intensely competitive dynamic. I wouldn't completely rule out the idea that price competition will get more intense rather than less intense over the next period of time."
Bigger baskets?
Coupe added that the "million-dollar question" was how long it would take grocers to start feeling the benefits of consumers having extra disposable income in their pockets.
Leisure activities such as eating out at restaurants and going to the cinema are reaping the rewards, rather than shoppers increasing their basket sizes – and Coupe said he was "not holding his breath" on that trend changing this year.
He said: "If you look at historical trends, you would say you'd see that it's going to be around 12 months after customers start to see a bit more money in their back pocket, but that historical trend was 1992/93. That might not be reflective of the current market dynamics.
"You have to believe that if customers are feeling a little bit better off, there will be a tendency to buy more stuff and a tendency to trade up between the various supermarket offers or trade up within the offers we've got within our supermarkets.
"But it's very early days and I'm not holding my breath that we'll see a change in that trend over the next period of time."
Sainsbury's will reveal its preliminary results in May, but Coupe said the grocer's bosses will "reserve our position" on disclosing whether or not it would report its commercial income as part of the results statement.
Last week Morrisons became the first supermarket to reveal its commercial income, following the Tesco accounting scandal.