Sainsbury's boss Mike Coupe has dismissed talk of the death of the supermarket as a "gross exaggeration" but said they will have to become "shopping destinations."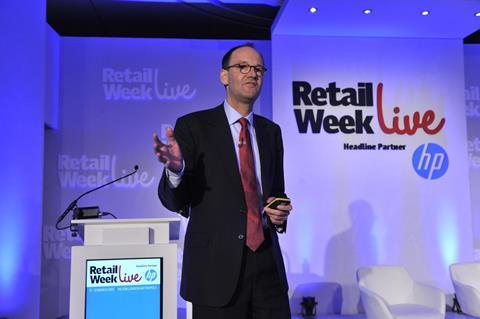 Coupe insists that the majority of customers will continue to do their shopping in large stores, even in a decade's time.
But Coupe admitted the offer of its supermarket estate will have to "evolve" in order meet the demands of its customers.
"There's a lot of stuff being written at the moment that the superstore is dead. My own view is that is a gross exaggeration," Coupe said.
"I believe that in 10 years' time, the majority of customers, the majority of the time, will be doing their shopping in large out of town superstores.
"There is no absolutely no doubt they will have to change in terms of the goods and services they offer, but fundamentally an out of town superstore will be the main point that most of our customers will go to in any given period of time.
"How we use that space will change quite rapidly. We have to put more goods and services into our out-of-town stores and turn them into shopping destinations.
"None of us have the right to survive unless we evolve in that environment."
Coupe pointed to click and collect services and the extension of Sainsbury's non-food offer with its own clothing brand as the two primary ways it plans to do that.
Rise of discounters
Speaking in the closing keynotes speech at Retail Week Live, Coupe added that discounters Aldi and Lidl will grow their combined market share to around 15% by 2022 and admitted Sainsbury's could not compete with them on price.
He said: "That market share has to come from somewhere and my job is to make sure that doesn't come from Sainsbury's.
"Our business won't win a price war against the discounters. It has to be differentiated in other ways.
"What we can win on is range, we can win on service, we can win on having an easier shopping experience, we can win on the quality of the products that we sell.
"That's why, in the long term, I believe we will be a success story.
"We believe we have the cash and the balance sheet to deal with whatever comes our way."
When questioned on recent store closures by big four rivals Tesco and Morrisons, Coupe claimed Sainsbury's would not be shuttering any of its stores, but admitted there was "too much retail space" in the UK at the moment.
He added: "There will be a shake down in retail space more generally. We expect secondary locations to disappear and we expect some high streets to disappear – that's a reality of the market we are in.
"Some high streets will thrive and survive, but we do expect to see a collapse in retail space."
Referring specifically to the fortunes of Tesco, which revealed plans to shutter 43 stores in January, Coupe said: "Perhaps a source of their demise is how we've competed.
He added: "Our relationship with our customers has to be valued on trust. In the end, customers will still demand that they demand with brands that they trust.
"Trust takes a long time to earn, but it takes a microsecond to lose. We've seen that in the industry very recently. We are a brand that's built on trust."