Tesco delivers a very Hap-pie Christmas, Paperchase become gangsta wrappers and Morrisons kicks off its festive fundraising drive.
Tesco delivers a very Hap-pie Christmas
Tesco has officially kickstarted its Christmas season with the return of its mince pie van.
Bringing the delicious Christmassy treats to a location near you soon, the grocer hopes the van will get customers into the festive spirit.
Tesco will dish out 18,000 packs of pies to residents in towns and cities, for free, over the coming weeks.
After rebuilding trust and transparency among shoppers and suppliers under Dave Lewis, Tesco will hope its latest good deed secures it a spot on Santa's 'nice' list this Christmas.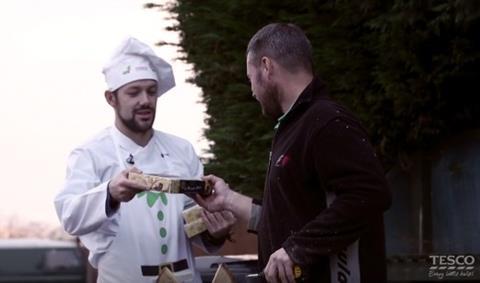 Paperchase: 'Best wrappers in the world'
The upmarket stationery retailer, run by Timothy Melgund, has taken on an edgier vibe for Christmas this year.
In a playful move to promote its festive wrapping paper and card sales, Paperchase has created a 'gangsta' rap video.
Uncharacteristic lines include, 'replace a shoelace at Paperchase' and 'tape your friend's face at Paperchase'.
It's certainly a fresh message from the retailer – one may even say 'bling'.
A jolly festive kick-off at Morrisons
Morrisons has kicked off a month of festive fundraising for Sue Ryder. And has done so in the most stylish of knitwear.
Throughout December, colleagues will be wearing their finest Christmas jumpers and hosting a variety of fundraisers in store, including bag packs, raffles, gift wrapping stations and a 'Guess the Weight of the Christmas pudding' competition.
At least those jumpers will keep the team warm in the freezer section.