Sainsbury's Valentine's blooper, Drake picks up the grocery tab, and Poundland's social media team prove unstoppable.
Poundland is a #toptosser
There's no stopping the brazen social media team at Poundland, which received a stern telling off last week.
Despite its lewd Christmas Elf Twitter campaign being banned by the ASA, it went ahead and launched a new cheeky ad – a #toptosser promotion for pancake day.
It also shrugged off the ban, claiming that the 84 people who complained about the ad had a "sense-of-humour failure".
It posted a picture of the elf behind bars, accompanied by the following message:
"Britain's the home of saucy postcards, Carry On films and panto, so I'm sad the ASA found my double entendres hard to swallow.
"At least it's only 84 people who had a sense-of-humour failure compared to the tens of thousands who got the joke and liked and shared my posts online.
"I'm doing everything I can to be good so I can get out on good behaviour later this year.
"Love, Elfie."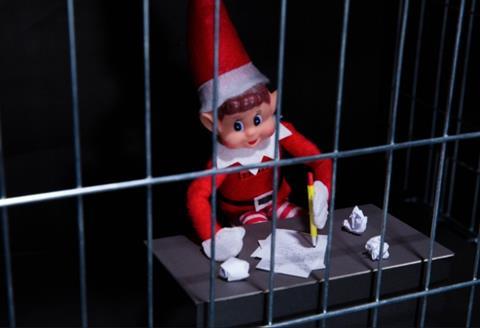 Gender wars at Sainsbury's
Sainsbury's got into its own gender war last week and was accused of "ripping off" women when it was found to be selling Valentine cards for husbands at a higher price than those for wives.
The 'husband' Valentine card, despite being remarkably similar to the 'wife' card, was 50p more expensive.
The price disparity was spotted by a keen-eyed BBC hack in a Sainsbury's store in Stoke-on-Trent.
The grocer quickly saw the error of its ways and made both cards £2.
It seems money can buy you love (but it will cost you more if you're a woman).
From Champagne Papi to Champagne Charlie
Hip hop stars are often given to spending sprees, but they don't usually involve picking up the cheque for other people's groceries.
That's what Canadian rapper Drake did on a recent visit to Miami. While at the Sabor Tropical Supermarket, he decided to pay for the groceries of everyone in the store, reportedly spending around $50,000 in the process.
A customer by the name of Guille Deza told E! that Drake "helped people find what they were looking for and encouraged all to buy everything they want and to fill their carts".
He started from the bottom, now he's here… to pay for your cornflakes.