Asda wows the public with the signing of the season, Justin King is featured for his winning quotes, and a grim discovery at Monoprix in Paris.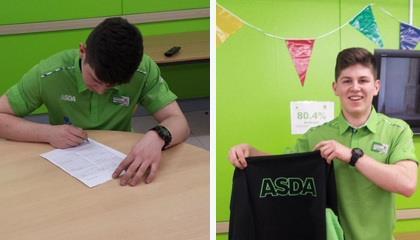 Asda has made the signing of the season by re-signing part-time worker Andrew Paterson for the near future. Paterson marked the occasion with a tweet that any Premiership football club press officer would be proud of.
The tweet went viral as Asda fans expressed their relief Paterson had ended speculation linking him to Waitrose and Tesco. General store manager of Asda St Leonards, Denise Callachan, expressed delight Paterson – who is also a student at Heriot-Watt University – has agreed new terms. Green Army!
Campbell and King's top tips
Few have been closer to power, or understand better what marks out leaders from the rest, as journalist and former Tony Blair lieutenant Alastair Campbell. In his latest book, Winners: and how they succeed, Campbell has talked to some of the most outstanding achievers in their fields.
Alongside sporting and political greats ranging from Nelson Mandela to Jose Mourinho, retailers including Carphone Warehouse founder Sir Charles Dunstone and former Sainsbury's boss Justin King are featured. Here's some advice from the book from King: "Celebrate it when it is successful; reward it when it is successful; and learn from failure by not making the same mistake twice." Sound tips.
Bring up the bodies
Parisians have a reputation for being blasé but shoppers at hypermarket Monoprix in Boulevard Sebastopol have taken it to a whole new level. At least 200 bodies have been discovered underneath the shop floor.
Shoppers have greeted the discovery with a Gallic shrug and are buying their groceries as normal. Fortunately the bodies are not victims of a Black Friday stampede for cheap flatscreen televisions. The Monoprix is on the site of hospital grounds dating back to the Middle Ages.
The mass grave is believed to be the result of a plague and carbon dating is underway to discover if they were victims of the bubonic plague that struck the city in the 14th, 15th and 16th centuries.
Archaeologists have two weeks to exhume the bodies because Monoprix wants to convert its cellar into additional storage space. Not even Black Death can stop Monoprix's expansion plans.