Waitrose reported a strong performance in the first half today with profits up 28.9%. Managing director Mark Price tells Alex Lawson how the retailer has achieved success in a difficult climate.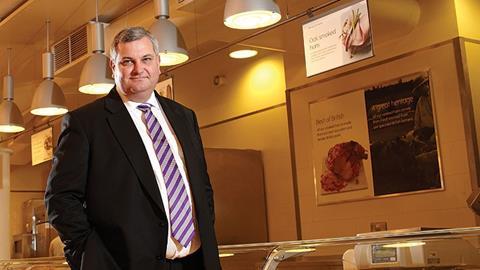 How did you find the first half?
Our performance just improved and improved. We were up against tough comparatives with the Royal Wedding but the Diamond Jubilee was as good. Our like-for-likes in the first quarter were up 1.5%, then 3% in the second quarter and in the last six weeks they have been 4.5% up. They are just getting stronger and stronger.
How has the introduction of the Waitrose Price Match against Tesco in May affected the business?
It's been fantastic. The consumer is getting to a place where they realise that Waitrose is not 25% more expensive than Tesco but that it is zero percent more expensive. We have also lowered prices on our own brand Essential Waitrose accordingly by 3-5% since May so people can make some comparisons. If a brand is not stocked at Tesco, we try and at least match Sainsbury's. In this era of online shopping comparisons are easy and you have to be transparent. This removes the smoke and mirrors.
Do you expect to see an uplift in the volume of products you supply to Ocado next year when it opens its second distribution centre?
I hope so, I hope they take lots of our product. If they spend all that money opening a huge new warehouse and do not sell any more products there will be a bit of a problem and it won't be me that it is most worried but Ocado.
What is your strategy around formats?
We have looked in the past at coffee shops and whether that's a space to move into, we looked at this two years ago but have now decided that our focus is on Little Waitrose. We are looking to expand our Food to Go offer in our Little Waitrose and high street stores. We've been pleased with how popular Food to Go is and in London stores people will often even buy a sandwich for dinner. We are looking how to offer a breakfast, lunch and dinner offer and our coffee is so popular we are a strong competitor to Pret, Eat and the coffee shops.
You recently revealed an ambition to open 600 Waitrose stores – how do you intend to get to that position?
Hypothetically the current way people shop could support 600 stores. However, the unknown is the internet and how quickly that is going to become a bigger way of shopping. We intend to continue opening 10 supermarkets and 10-15 convenience stores a year and keep looking at our long-term ambitions.
Are you finding it difficult to find sites?
Not at all. Landlords always want Waitrose and often we are chosen over other retailers offering to pay similar or lower rent. The stats show when we go in, others follow so we are popular with landlords.
What is your strategy on non-food?
Non-food is performing well. We have just launched an Essential Waitrose duvet using a John Lewis supplier. We will grow the amount of complementary non-food with more kitchen and cooking products to complement our food offer.
How is your international business performing?
We had a really, really strong first half internationally. We saw a 25% uplift in sales and we have now opened five shops in Abu Dhabi. Duchy Originals are extremely popular.
Why have you succeeded in such a difficult climate?
We've been the fastest growing grocery business in the UK for the last four years, everyone wrote us off at the start of the recession and it's a testament to our staff and stores. We do not offer a dull shopping experience, trudging round the supermarket shoving cheap stuff into your trolley. Our stores are lively and exciting places to be.
How are you feeling about Christmas?
I'm very confident. Waitrose is in for a very strong second half. Our products and pricing are better than they've ever been and we have some great product launches planned.