Now that companies can understand the 'why' as well as the 'what', Clubcard should enable Tesco to get smart with customer data.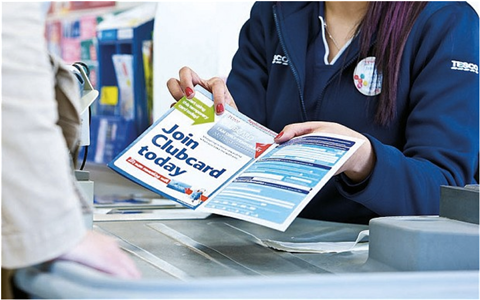 For many, the Tesco Clubcard was seen as the key lever in the growth of Tesco PLC throughout the 90s. Former CEO Lord MacLaurin is reported to have said: "What scares me about this is that you know more about my customers after three months than I know after 30 years."
More recently, the new CEO, Dave Lewis said: "In both the UK and internationally, we are putting customers at the centre of everything we do and re-configuring our business to serve them a little better every day." However, in its most recent financial announcement, Tesco also revealed that online grocery sales were not delivering growth: "The rate of sales growth in online grocery has continued to moderate, as expected, reflecting the changes we made last year to improve the sustainability of the offer."
This performance sits in contrast to the double-digit performance reported by both Sainsbury's and Ocado: as we researched the Tesco online execution, it is clear Clubcard is highly likely to be lowering the acquisition rate of new customers and therefore poses a long-term risk to shareholders. If as predicted online groceries grow c.75% to £15bn in the UK market by 2020 then Tesco must make sure that its online execution encourages trial rather than frustrates.
When do you ask customers to trust you with their data?
Our experience of the original Clubcard was that it was often introduced to customers in the store at the end of the transaction: the customer had placed their products in the basket, proceeded to checkout, bought and then were asked if they would like like join.
This 'transaction' is in stark contrast to the online journey for new customers. If you are a new online customer to Tesco, the 'Clubcard ask' arrives before shopping – in fact, it's the very first interaction. It's clear Tesco doesn't really want you to browse. They want your details and they have made it very hard for a customer to shop without providing them.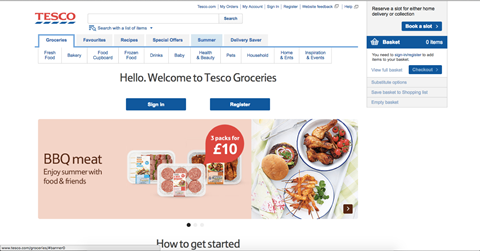 Is placing the 'Clubcard ask' at the beginning of the funnel the most effective way of capturing customer data? How many new customers leave having arrived with the intention to buy but were discouraged by the 'Clubcard ask'? The clue is in the interaction and the degree to which Tesco seems to have adopted the information request standards more often associated with HMRC or a mortgage.
How much data should you ask a customer to share?
Given Tesco is one of the most trusted brands in the UK and many customers will be willing to share customer data with it, the issue therefore is what would most of us think is a reasonable amount of data to ask for before we start start shopping?
The standard online clubcard form below requests 10 mandatory data points – all requested before a customer can place an item in their basket and shop.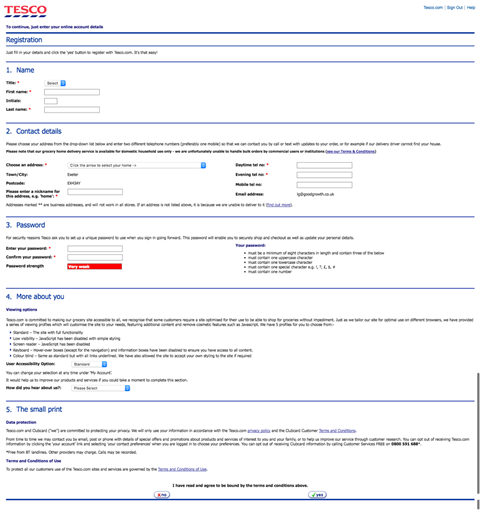 Compare this to Sainbury's, where you can browse and start building your trolley after simply providing your postcode. Ocado takes an even simpler approach and allows you to fill your basket without additional data shared or forms. Waitrose asks for a postcode and fixes the delivery slot so you are confident you are shopping for goods that will arrive when you want them.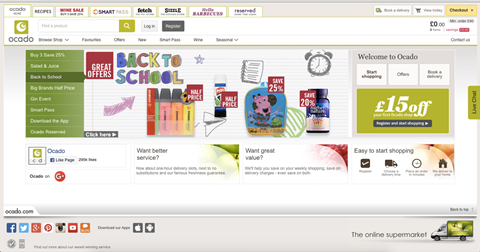 What customer insight is lost in three months?
Clubcard was a revolution in that it revealed a significant amount of information about customers that Tesco leaders did not know before. But was its use to drive sales a strategic stroke of genius? In an article for the FT, leading statistician Tim Harford argued that Tesco was more lucky than smart. Harford argues that scale enabled growth as the data drove customer engagement – because with that many customer data points, the law of averages says you'll get some of the offers right for some people some of the time. Without understanding the 'why', big data strategies still rely on guesswork to interpret the customer.
"While there are analytics and testing tools, there is no systematic method for interrogating the data. If it had these, Tesco could learn why customers are failing to buy"
Digital, however, does allow Tesco to get smart as companies can understand the 'why' as well as the 'what'. So is the prominence of Clubcard in the sales execution now a limiting factor on the insight Tesco can now gather on its customers?
An assessment of the tools used by Tesco to operate the channel reveals a lack of customer insight software. While there are analytics and testing tools, there is no systematic method for interrogating the data. If it had these, Tesco could learn why customers are failing to buy. The majority of new customers who come to the site will fail to buy: the 'Clubcard ask' may not be the largest barrier to purchase – but in three months, Dave Lewis and his leadership could find out why people are not buying and start to deliver faster growth than either Sainsbury's or Ocado.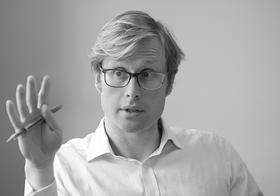 James Hammersley is the co-author of Leading Digital Strategy. He is a founding partner of Good Growth, and has worked with some of the UK's biggest names including O2, The Economist, Game PLC, Ann Summers, The Guardian, Barclays, Bupa and Manchester United. For more information, visit www.goodgrowth.co.uk