Morrisons boss David Potts has shrugged off the potential introduction of no-deal Brexit tariffs and vowed to shield shoppers from price rises.
Potts insisted the grocer would "play its part" in delivering "great value" for shoppers, no matter what the outcome of prolonged Brexit negotiations.
The pledge came on the morning that the Government revealed the tariff rates that would come into force should Britain leave the EU without a deal on March 29.
Although taxes would be temporarily slashed on the vast majority of goods imported to the UK, grocery products such as beef, poultry and butter would be subject to hefty tariffs – of 53%, 60% and 32% respectively.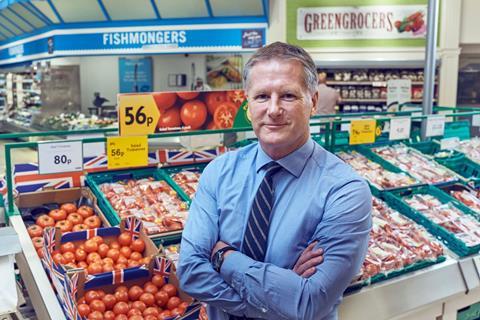 The Government said the move was designed to "support farmers and producers who have historically been protected through high EU tariffs".
Any goods imported into the UK from the EU are currently tariff-free, but if Britain left the union without a deal then World Trade Organisation taxes would have kicked in without the Government's intervention.
Despite the prospect of increased sourcing costs, Potts said Morrisons would be protected by its commitment to British produce – and promised to continue delivering "great value" for shoppers.
Speaking after the grocer unveiled an uptick in full-year profits, Potts said: "We are, in some ways, blessed that two-thirds of what we sell is British and we are 100% British in beef, pork and fresh poultry. Clearly, 'tariff' is another word for 'tax' and part of the job of a retailer is to collect taxes on behalf of the country. We'll be playing our part in that.
"In the end, in this market in Britain in particular, it falls to retailers to continue the very competitive framework by which British consumers get great value and Morrisons, as a value retailer, will play its part in that.
"We did that yesterday, we're doing that today and we'll do that tomorrow."
When asked if Morrisons shoppers had started stockpiling as a no-deal Brexit looms ever larger, Potts joked: "We've seen quite a tick up in painkillers and toilet rolls this financial year. Whether that's got any bearing on how people are feeling about the Brexit process, I don't know."
Separately, Potts insisted Morrisons' agreement with Ocado would continue, despite the online grocer striking a £1.5bn joint venture with Marks & Spencer.
M&S is paying £750m for a 50% stake in Ocado's retail business and claimed that it would have "exclusive rights" to the company's proprietary Smart Platform technology in the UK – the same technology Morrisons already licenses within its own ecommerce offer.
Potts said: "There's no change for us. We expanded into [Ocado's warehouse in] Erith in the year just ended, we have introduced store pick, and we are now in 23 stores with that. That gets us into parts of the country that are harder to reach economically.
"We continue to grow our online business and long may that continue.
"We've got a partnership with Ocado and it's an important part of both companies' repertoire."
Morrisons' Potts shrugs off potential no-deal Brexit tariffs
1

Currently reading

Morrisons boss David Potts downplays potential no-deal Brexit tariffs

2