Like-for-like sales increased 7.5%
Total sales rose 15.3%
Gross margin was down 1% during the period
Majestic Wine recorded its "biggest ever" Christmas in like-for-like sales as the specialist retailer cut its prices to compete with the discounters.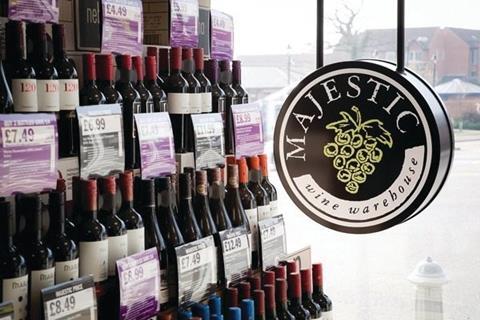 The specialist retailer posted 7.5% like-for-like sales growth year-on-year in the ten weeks to January 2, 0.5% of which was a one-off due to transferred sales from closed stores.
The group's overall sales increased 15.3% during the period as retail sales were up 6.2%, driven by a 29.9% leap in sales across its Naked Wine business, which the retailer acquired in 2015.
Majestic Wine's gross margin percentage was down 1% year-on-year, which the retailer attributed to "a combination of accelerated acquisition of new customers and the need to remain competitive in a heavily discounted UK market still coming to terms with recent currency movements".
The specialist retailer, which recorded a £4.4m loss at the half-year mark in November, said that its profits would be in line with expectations due to cost control measures.
Chief executive Rowan Gormley said: "Delivering strong like-for-likes in a tough market is a tribute to the hard work that our people put in – right across the business.
"Our transformation plan is working and we remain on track to achieve our £500m sales goal. We said that we would be better prepared for Christmas than ever – and the numbers show that we did what we said we would do.
"At this stage we are not predicting a change to long-term margin expectations, but we need to retain flexibility to compete in a competitive market."