Sales at upmarket grocer Waitrose jumped 6.2% to £132.2m last week as its new Pick Your Own Offers loyalty scheme started to bear fruit.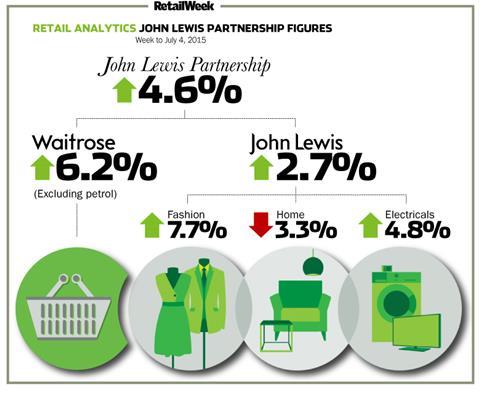 Waitrose sales rise driven by Pick Your Own Offers loyalty scheme
Good weather and British sporting events also push sales up
John Lewis sales rise as online and outdoor living impress
The John Lewis Partnership-owned retailer said good weather, coupled with the British Grand Prix, Wimbledon and a "growing number of myWaitrose customers" signing up to its new offers initiative drove an "encouraging performance" during the week ending July 4.
Pick Your Own Offers, which has been dubbed a "worldwide first" by Waitrose, allows its loyalty card holders to select 10 items from a list of 1,000 lines on which they can save 20% every time they shop in-store or online.
But summer sunshine also aided revenues, particularly in alcohol. Sales of Pimm's rocketed by what Waitrose called "an incredible" 137%. The grocer recorded "record-breaking" beer sales, with bottled beers up 47%. Rose wines were up 43% and gin sales increased 34%.
Barbecue food also proved popular with sales of Essential Waitrose sirloin steaks up 115% and its own-label Aberdeen Angus mini beef burgers soaring 136%, driven by strong promotional activity.
Sales of sausages and cooked chicken wings also increased, while barbecue sauce sales rose 60%. Picnic foods including quiche, dips, olives and antipasti all performed well, as the Waitrose delicatessen had its "biggest week ever" outside of Christmas.
John Lewis clearance
Sister retailer John Lewis's sales rose 2.7% to £88.93m during the same period, in what was the second week of the department store group's clearance.
Online sales led the charge, up 21.9% year on year. John Lewis director of store development Tim Harrison said "operationally this was excellently executed".
Outdoor living proved the "standout performer" as sales jumped by "a stunning" 94% as the outdoor buildings category had its biggest ever year-on-year uplift.
Fashion sales rose 7.7% compared with the same period last year, with the strongest growth in that category coming in women's swimwear and nightwear, up 29%. Fashion accessories rose 17.6%.
But it was a tougher week for home, as sales dropped 3.3%.