Waitrose sales up 20.7% last week
Easter confectionary up 8%
John Lews year-on-year Easter sales up 10.4%
Waitrose posted a 20.7% rise in sales last week, but the retailer said the figures were "heavily influenced" by the timing of Easter.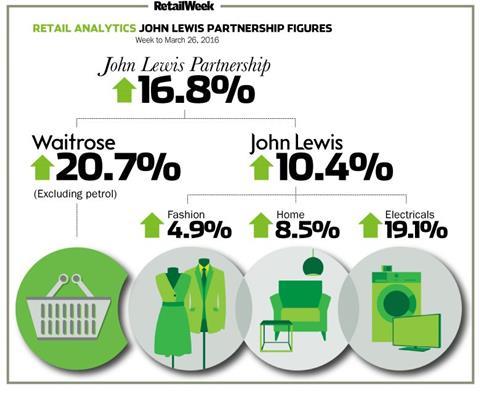 The grocer reported total sales of £155.63m for the week ending March 26. Easter confectionery sales rose 8% compared to the equivalent week last year, the retailer said.
Spring flowers also proved popular with horticulture sales up 10.3% year on year.
Overall, sales were up by 3.7% compared to the equivalent week last year, which Waitrose said was a more "meaningful comparison".
Sister retailer John Lewis also revealed a 10.4% year-on-year increase for the week ending March 26, finishing with total sales of £85.2m.
According to the retailer, Easter provided "a strong backdrop to this".
Electricals and home technology sales jumped 19.1%, driven by a "strong set of results in vision, audio and connected home", it said.
Sales in its home department rose 8.5%, boosted by sales of Easter decorations and chocolate.
In fashion, sales increased 4.9%, with menswear the stand-out performer up 12.1%.
"While the cold weather continues to be a challenge, sales of women's casual wear and collaborations were a highlight," the retailer added.
Across the partnership, sales were up 16.8% to £240.83m.
The department store group reported a 10.9% decline in full-year pre-tax profits to £305.5m, earlier this month, in line with expectations.