Waitrose sales excluding petrol increased 4.2% last week as shoppers stocked up on Halloween treats, while John Lewis sales rose 8.3%.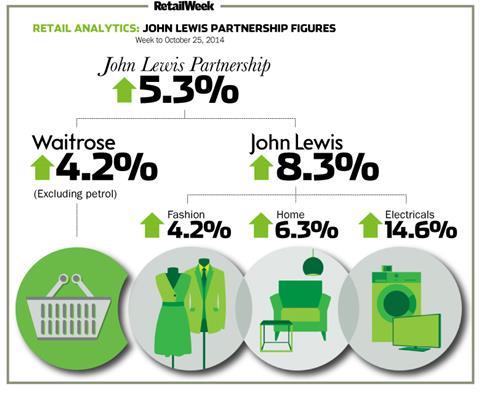 Sales of pumpkins increased 20%, while sales of Halloween mixed bags of sweets jumped 53%.
Apple-bobbers drove sales of the fruit, which were up 14%, and sales of witches' hats increased 22%.
Sales of fireworks were up 12% ahead of Bonfire Night and Diwali celebrations.
Warm weather drove sales of prepared salads and sushi, said Waitrose finance director Tom Athron.
Sales at sister retailer John Lewis increased 8.3% to £83.6m in the week to October 25 as it was boosted by the launch of new Apple products.
John Lewis's electricals sales were up 14.6%, aided by a "a strong execution of the new iPad Air 2 and iPad Mini 3", according to Paula Nickolds, buying and brand director, John Lewis.
However, Nickolds said "balmy temperatures continued to impact cold-weather product sales" across fashion.
Despite this, John Lewis posted a 4.2% sales uplift in fashion by "continued strong trade" in nursery, which was up 23%, and premium beauty, up 6%.
Home sales were up 6.3%, with seasonal driving growth, as well as bedding.
Across all categories, shops were up 2.7% and web sales increased 22.5%.
Chichester and Newbury were the strongest-performing branches.
Nickolds said: "The week ahead is up against strong comparatives from last year, so a break in the weather would be very beneficial. But with only eight trading weeks to Christmas it remains all to play for."