Focus shifts from space race to refurbishments in market share showdown.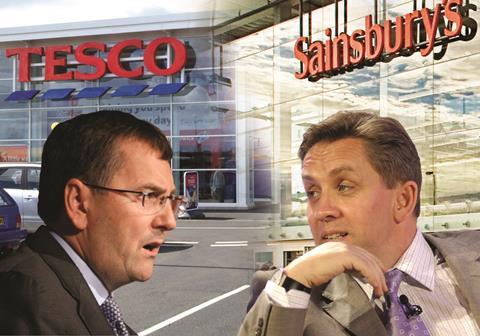 The big four grocers are making the in-store shopping experience a key battleground in the fight for market share as they switch their focus from new space to existing stores.
Sainsbury's this week said it will focus on refurbishing its larger stores as arch-rival Tesco boss Philip Clarke aims to "warm up" shops as part of his £1bn attempt to return to like-for-like growth.
Sainsbury's shifted the focus from new space to refurbishments in the last quarter, when it opened no superstores and only one extension compared with eight refurbishments. It will revamp 15 to 20 stores this year compared with eight the previous year.
Tesco will revamp 400 shops this year, an indication of the importance now being placed on more appealing stores.
Chief executive Justin King said: "The focus in the last three years has been to do extensions. We will now do less extensions and some refurbishment." King said there are a number of large stores that "we do not want to leave behind".
Store extensions have been the main driver of Sainsbury's like-for-like growth in recent years, with 0.8% of the 1.4% like-for-like first-quarter increase coming from extensions. But analysts believe that refreshing existing space will help redress the balance.
Conlumino consultant Matt Piner said Sainsbury's decision to move away from openings towards investing in store environments is "proving popular with shoppers".
He praised the refurbished stores' strong displays, better layout and engaging feel compared with a "soulless and industrial" environment at Tesco.
Sainsbury's is investing £100 per sq ft in each store, dedicating more space to chilled food, less to frozen and providing more counter services.
Despite the slowdown in large store openings, King said there is still plenty of opportunity in convenience. Sainsbury's will open 75 convenience stores this year and will continue to open one or two a week for "many, many years", said King.
Asda intends to refurbish 39 shops this year, up from 32 in 2011 and 30 in 2010. Morrisons is also revamping its estate, rolling out its Fresh Format which dedicates extra space to fresh produce.
Institute of Customer Service chief executive Jo Causon said customer service will "remain the last bastion of differentiation for businesses".
Coupons remain the key promotional mechanic. Clarke labelled the widespread use of the tactic, which Tesco has been using heavily since it lost out at Christmas, "unhelpful" as the grocer revealed a 1.5% fall in like-for-like sales on Monday.
King argued Clarke has a problem with blanket money off vouchers and Sainsbury's Brand Match vouchers are the best value. He added: "Not all vouchers are equal."
Morrisons' introduce a new coupon at till trial in the North East this week. King said: "We have Nectar data combined with Brand Match technology which makes our offer more targeted."
New data from coupon supplier Valassis showed a 22% jump in redeemed coupons in 2011 compared to 2010.