Iceland has started selling plastic-free chewing gum as it steps up its war on single-use plastic consumption.
The grocer has started stocking Simply Gum, which is made from natural ingredients, including a tree sap called chicle, and is biodegradable.
The primary ingredient in most chewing gum is something known as 'gum base', which is made of plastic, softeners, texturisers and other ingredients.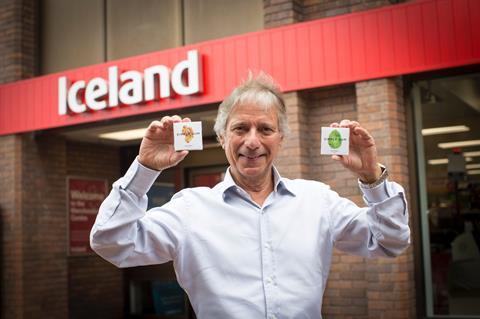 Iceland commissioned research, working in partnership with food psychologist Dr Christy Fergusson, which found that 85% of customers did not know that chewing gum usually contains plastic.
Around 60% of those surveyed use chewing gum, and two-thirds of those said they would prefer a gum that was not made from synthetic ingredients.
More than 100,000 tonnes of gum is consumed every year and it is estimated that 95% of streets in the UK are stained with it.
Local councils spend an estimated £60m every year cleaning up gum.
It forms the latest part of Iceland's crusade to reduce single-use plastic consumption. The grocer has vowed to make all of its own-label food packaging plastic-free by 2023.
Iceland founder and boss Sir Malcolm Walker said: "I absolutely detest the mess that discarded plastic chewing gum creates on our streets, and the fortune that is wasted by councils trying to clear it up.
"For decades, regular gum-makers have hidden their synthetic ingredients behind the catch-all term of 'gum base', which is consistently used as an ingredient on pack.
"Simply Gum uses the original, natural gum base of chicle and is fully biodegradable. We are delighted to make it available to UK consumers in our stores so that they can have a real choice about what they are consuming and the impact they make on the environment."
Ingredient clarity
The survey commissioned by Iceland also found that 85% of people think brands have a responsibility to make it clearer what ingredients their products contain.
Nine in 10 are worried about the damage being done to the environment by plastic, and three-quarters said they have actively attempted to cut down of the amount of products they purchase that contain or are packaged in plastic.
Fergusson added: "Over the past several years, as consumers we have become more conscious when it comes to the products we buy and the impact that our diet and lifestyle choices have on the environment. As a result, we want to know what we are purchasing, so we can make more informed decisions.
"With the introduction of Simply Gum, Iceland is taking another step forwards to that goal."