Despite being overshadowed by the CMA's decision to block its planned merger with Asda, Sainsbury's chief executive Mike Coupe insisted at today's results that the future is still bright. We take a look at his plans to move the grocer forward.
Despite the collapse of the Asda deal last week, Coupe did not unveil a brand-new strategy for Sainsbury's. Instead, he maintained that the approach that has been taken over the last four years was still working and will continue to.
In the coming years, he signalled a variety of areas of focus that he is confident will bear fruit.
Price competitiveness and availability
Lower prices for shoppers were at the heart of the rationale of the planned tie-up with Asda – to the tune of £1bn. Coupe said today Sainsbury's will now lower prices on its own but did not put a figure on likely reductions.
He was bullish about Sainsbury's existing competitiveness on price, particularly with its higher-end ranges, but he did admit it had lagged rivals on the price of commodity goods.
Coupe said: "We've cut the price of [premium range] Taste the Difference by 2.2% but we recognise the fact that we need to be more competitive on core commodities. It's not something we can do overnight, but as we make our business more efficient, we can and will invest that back into making our core commodities price competitive."
"We won't put a number on it, but we know what we need to do in terms of reducing our costs and making our business more efficient"

Mike Coupe, Sainsbury's
On whether Sainsbury's would be able to pass on the 10% price reductions it had pledged if the Asda merger was completed, Coupe was non-committal, but he did say it would take longer to deliver.
"Clearly that'll take longer than had the Asda transaction gone through. But it's an area of focus and it'll be very much product by product, category by category. We won't put a number on it, but we know what we need to do in terms of reducing our costs and making our business more efficient so that we can invest."
One of the main issues that many analysts, and consumers, have had with Sainsbury's recently has been a lack of in-store availability. Coupe insisted that the grocer is back to where it should be, after enduring a bad autumn period in terms of availability.
"We've said store standards are improving, we've pointed at the low point, which was autumn last year, and we'd contend very strongly that we're back to where we should be," he said. He pointed to data which showed customer service scores improving in real time – particularly on availability of products.
Getting Basics right
Some analysts, such as Bernstein's Bruno Monteyne, believe Sainsbury's marketing and presentation of its Basics value range fails to compare with competitors' such as Tesco's revitalised entry-level ranges – a big problem in a value-drive environment where perceptions of quality nevertheless matter.
Coupe admitted the Basics range needs work on its "positioning", despite his contention that pound-for-pound it is "as cheap, if not cheaper" than rivals.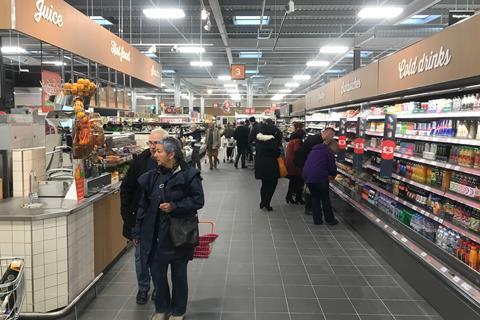 Sainsbury's economy own-label products lost 2.5 percentage points of market share in 2018/19.
However, Coupe said there had been good results from one of its new economy brands – J. James & Family breaded chicken, introduced to compete amid the changes being made by competitors.
The product delivered a 30% increase in volume of new customers to the category, and over-indexed both with value-conscious shoppers and those willing to trade down from a higher price point.
Considering the kind of marketing and investment that Tesco has been putting into its Exclusively at Tesco ranges, not to mention the investment in food quality made by Aldi and Lidl, the danger is that Sainsbury's lower-end products could languish unless there are more J. James-style initiatives.
Investment in stores
Coupe and Sainsbury's chief financial officer Kevin O'Byrne said JS will spend heavily on its estate this year – both supermarkets and convenience stores.
O'Byrne said the grocer will invest £550m altogether this year, "skewing more towards the supermarket business and the store estate" as well as technology initiatives– that will amount to around £100m of capital spend over the next 12 months.
Coupe said 400 supermarkets – roughly two-thirds of the total – and about 500 convenience stores would receive some investment this year.
"There will be a number of big programmes – one of them is investing in Argos stores in supermarkets"

Mike Coupe, Sainsbury's
While some of that will be "fairly capital light", such as boosting the beauty offer in 90 stores, Coupe said Sainsbury's will spend "several millions" on a complete refurbishment of its Hedge End supermarket in Hampshire.
Under Coupe, Sainsbury's has unveiled a variety of new and innovative refurbished supermarkets such as its innovative big-box stores in Nine Elms, London, and Selly Oak, Birmingham. Coupe said Selly Oak represents the latest thinking and shows the direction of travel that will be taken at Hedge End.
"Selly Oak is a good way of looking at it. I'm sure there will be some things in Selly Oak that won't go into Hedge End because they wouldn't work and obviously things that aren't in Selly Oak that will go into Hedge End, but [Hedge End is] one of our largest and highest-turnover shops. It's a great location and it was very tired. We will bring it up to a 2020 standard," he said.
Investment is needed as the 2018/19 results showed that total sales at Sainsbury's supermarket business grew by just 1% last year – well behind online food and c-store growth.
More benefits from Argos
Coupe said the integration of general merchandise giant Argos is now complete and that will allow the overall business to deliver lower prices to consumers.
"The Argos integration is finished, which again gives us the financial resources to invest in our core offer. So, there will be a number of big programmes – one of them is investing in Argos stores in supermarkets," he said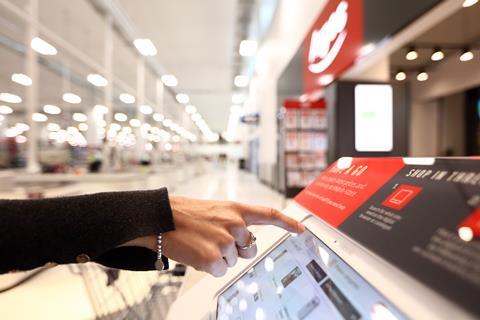 Coupe said customer behaviour "is changing" and an integrated Argos business within Sainsbury's means it is effectively future-proofed for the changing realities of retail.
He added: "Close to 60% of Argos sales are delivered through various online channels, and that's very rapidly changing. We think the proposition – the idea that you can get any one of 20,000 items in four hours virtually anywhere in the UK – is pretty unique and sets us up for the future."
Buying for the two businesses was completely integrated last summer and that there are "already 4,000 common products to both businesses", which brings with it "lower costs of goods, lower costs to serve and ultimately lower prices" for consumers.
Over the last financial year, 281 Argos stores are now open in Sainsbury's branches. Along with another 314 Argos collection points in, for instance, c-stores there are now 1,200 Argos 'points of presence' altogether.
Investing in digital
Sainsbury's has been increasingly focusing on improving its digital offering – be that in grocery, or through click and collect at its integrated Argos stores.
Digital sales accounted for 20% of total sales at Sainsbury's last year – or around £4.7bn. Coupe said that wasn't "by accident, but it is a reflection of the fact that we have invested and will continue to invest that particular area".
Coupe also flagged the fact that online grocery sales rose 6.9% last year, and Sainsbury's same-day delivery service now covers 60% of UK households.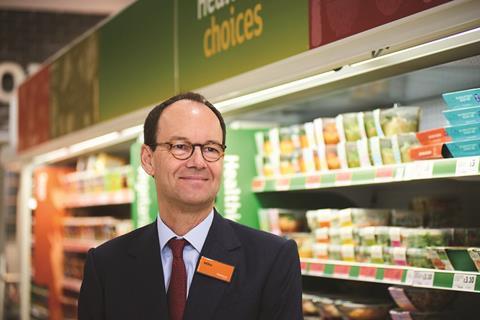 Alongside building digital sales, Coupe said Sainsbury's would hope to roll out its digitised Nectar offering nationwide, following a successful trial in Wales.
"Nectar is part of the glue which helps us join everything together. It's the biggest loyalty brand in the UK," he said. "We're now in the process of rolling out the digitisation of the Nectar scheme, which means you won't need the plastic card and, instead of having the paper vouchers printed out, you'll get all of the offers on your mobile phone."
He also pointed to other "exciting developments", such as the grocer's SmartShop app, which he said was rolled out in 100 stores last year. While that required "a lot of investment in infrastructure and bandwidth", Coupe wants it rolled out nationwide by the end of the year.
The grocer has also recently opened the UK's first ever till-free convenience store, a development Coupe said was "very exciting".
Asda may have evaded Coupe's grasp, but today he made a defiant case for why Sainsbury's can still do plenty on its own.