Hotel Chocolat boss Angus Thirlwell has hailed the retailer's "best ever Easter" as online and like-for-like sales soared during the key period.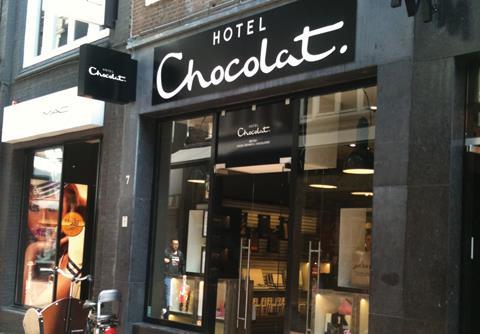 The chocolatier said online sales were up 25% and also reported "double-digit" like-for-like growth in stores, but the outlook would not have been so rosy for other retailers.
Springboard said overall retail footfall rose just 0.2% over the three key Easter shopping days, despite previous forecasts of a 4.7% jump during the bank holiday weekend.
Hotel Chocolat seemingly made the most of the marginal increase, with sales growth driven by its healthy luxury message and "Beau Bunny" campaign.
Thirlwell said the project helped create "retail theatre" at its stores, as actors and DJs wearing bunny outfits gave away 100,000 mini chocolate treats to potential customers to push sales.
"We had so little stock left by Easter that our online stock sold in half a day, so it couldn't have gone better."

Angus Thirlwell, Hotel Chocolat
He told Retail Week: "Yesterday we were looking at the results and it's the best ever Easter for us. Online was 25% up and in our stores we saw double-digit growth in like-for-like performance as well.
"We had so little stock left by Easter that our online stock sold in half a day, so it couldn't have gone better.
"Easter is probably the most difficult of all the seasonal campaigns to pull off because it's very short and savage in terms of the take-off runway and it bounces around each year.
"But some of our busiest stores in London were getting three deliveries a day of Easter eggs. What we saw was that all parts of our orchestra were playing an important role.
"Easter, of all the seasons, is the one where you have to make sure you have all the right stock in the right places at the right time and we used the benefits of being vertically integrated to do that."
Thirlwell added that the introduction of innovative new lines including city bunnies, goose eggs, quail eggs and its milk-free milk egg, aimed at lactose-intolerant customers, all performed well.
Its "best-selling" staples, including its ostrich eggs and extra-thick eggs, also performed "exceptionally well" during the period as its healthy luxury message "started to resonate" with consumers.
International expansion
Thirlwell said that he and co-owner Peter Harris will continue to focus on the retailer's UK operation, with a new 1,500 sq ft flagship boutique store due to open in Regent Street this summer. But he insisted they want to "up the ante" with international expansion over the coming years.
He said: "We are taking it carefully and applying the lessons we are learning each year.
"Our big effort at the moment has been in Scandinavia, where we've got three stores and a chocolate tasting club in Sweden. So we are using Scandinavia as our international lab to refine and hone our approach to international.
"We are trying to answer questions like: what should the range be? Which elements of the brand resonate more with Scandinavians? How much should digital play off against retail? There are supply chain questions as well such as how frequently should we be delivering and how do we achieve the same efficiencies we enjoy in the UK in a new international market.
"Until we answer those questions it's not a good idea to multiply the number of countries we are working in until we have got a very strong, very efficient, very sustainable platform. Then we can start to up the ante a lot."
Thirlwell refused to be drawn on the number of international openings it is aiming for or which countries Hotel Choclat is targeting, but admitted it was a subject they were "constantly coming back to and looking at."
He added that the retailer's bosses had "not stopped our ambitions for the US" despite closing its two stores there when leases came to an end.
Thirlwell said he and Harris "won't hold Hotel Chocolat back from fulfilling its brand destiny through a lack of development capital" and admitted it could seek investment in the near future to help drive its international ambitions.
He added there was "no active process" in place at the moment to pursue fundraising opportunities, but admitted the retailer was "receiving approaches all the time" from potential investors.