Waitrose's latest Food and Drink Report lifts the lid on the biggest trends from 2017 and looks and what products will be filling shoppers' fridges in 2018.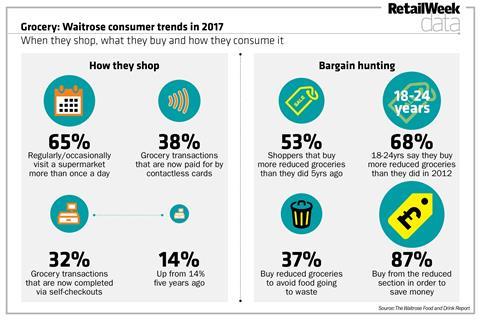 Action points for retailers:
From brunch to Buddha bowls, beans to berries, food trends and shopping habits are changing what people eat, when they eat it and how they purchase it.
How we shop
65%: The percentage of Brits who regularly or occasionally visit a supermarket more than once a day.
32%: The percentage of grocery transactions that are now completed using self-checkouts – up from 14% five years ago.
38%: The proportion of grocery transactions that are now paid for by contactless cards.
Bargain hunting
53%: The percentage of shoppers that buy more from the reduced section of supermarkets than they did five years ago.
68%: An even larger proportion of 18 to 24-year-olds say they buy more reduced price groceries than they did in 2012.
26%: More than a quarter of shoppers say there is no longer a stigma attached to buying reduced price food.
87%: The proportion of shoppers that say they buy from the reduced section in order to save money. 37% say they do so because they don't want to see food go to waste.
Foods in favour
Carbs: Carbohydrates were firmly back in fashion in 2017, helped by the popularity of bulgur wheat and quinoa. Pasta and fresh bread were also among consumers' top carb choices.
Herbs: As consumers scaled back on eating out, herbs became a quick way to add what Waitrose described as a "cheffy" touch to home-made dishes.
Turmeric: While sales of herbs improved, spices were increasingly popular too. Turmeric led the way and overtook cinnamon as the top-selling spice at Waitrose this year.
Buddha bowls: Dishes consisting of healthy grains, vegetables, protein and a healthy fat went mainstream off the back of the Instagram trend.
Brunch: The mid-morning meal enjoyed a resurgence this year as more and more consumers planned lazy weekend catch-ups.
Dark green vegetables: Move over broccoli and sprouts – a pack of cavolo nero, chard or kale is now sold every second by Waitrose.
Peanut butter: The spread has become a popular addition to a host of foodstuffs, from cereals to ice cream, prompting a 20% spike in sales this year.
Juniper berries: Following a surge in the popularity of gin and tonic, sales of juniper berries have jumped 17% as plenty of consumers use the dried fruits as a garnish.
Protein: Shoppers are more frequently "powering up" their dishes with beans, seeds and nuts.
Blueberries: Strawberries have lost the crown as the top selling berry at Waitrose after blueberries outsold them over the past year.
Drinking decisions
Craft porters and stouts: As craft ale sales continue to blossom, darker beers containing roasted malts or barleys got the craft treatment this year.
Spanish Vermouth: The aromatic, bitter wine is becoming increasingly popular among British shoppers.
Wine in a box: Sales of bag-in-a-box wine have surged 26% in France over the past decade. Waitrose has increased its ranges as it predicts a similar UK boom.
Premium mixers: High-end tonics such a Fever Tree have benefited from the gin-and-tonic resurgence, with sales of the brand rocketing 74% at Waitrose.
Bitter tastes: More bitter alcoholic combinations have come back to the fore, spearheaded by the negroni.
Magnums: More and more wines – and even beers – are now being sold in bigger bottles as consumers seek out dinner party centrepieces.
What will we eat next year?
Indian street food: Less chicken tikka masala, more scallops in picked ginger – tapas-style Indian street food is becoming increasingly common in the UK. And Waitrose believes "food trucks selling puris stuffed with zingy vegetables and drizzled in chutney" will continue to blossom.
Japanese indulgence: Lighter Asian cuisines such as miso, ramen and noodle soups are already fairly mainstream, but the UK is now braced for an assault from the indulgent end of the Japanese food spectrum. Waitrose says the country's "gutsy sharing dishes" such as yakitori skewered chicken and deep-fried tofu in broth are among the next Japanese delicacies that will be big in Britain.
The fourth meal: More and more Brits are starting to squeeze a small fourth meal into their daily routines, The Waitrose Food and Drink Report suggests, as people shape their eating habits around their busier lifestyles. The mid-morning piece of fruit, afternoon snacks and light supper time bites are poised to become more and more prevalent in the coming years.
Plant proteins: After the demand for high-protein foods ramped up in 2017, Waitrose says it is a trend that will continue beyond the turn of the year. Expect grains, seeds, shoots and pulses to fly off the supermarket shelves even quicker next year.
Retail Week head of content Luke Tugby's takeaways
Genuine convenience
With an increasing number of consumers shopping for food little and often, grocers must assess whether their stores genuinely offer convenience. Careful consideration over the layout of stores and the product range goes without saying, but are there other areas where grocers need to re-think or invest? With a third of transactions now completed using self-service checkouts, do supermarket chains need as many staff on the tills? And with shops becoming smaller, do they need to realign how many baskets, small trolleys and big trolleys they make available to shoppers in-store?
In-tune with trends
Amid the boom in sales of foodstuffs such as bulgur wheat, quinoa, seeds and nuts, grocers have to move quickly to meet increasing demand. If, as a consumer, you consistently walk into your local c-store or supermarket, only to find your desired shelf bare, you will quickly switch to a more reliable competitor. Grocery retailers must quickly judge what is on trend so that they can ensure enough stock is ordered in popular categories and availability remains solid.
The supermarket experience
Although convenience and online have forged ahead as grocery retailing's growth channels, larger stores still have a role to play. Sales at Tesco's largest store format, Extra, for example, are growing – something boss Dave Lewis attributes to them being more convenient than in the past, with fresh and food-to-go propositions now more prominent at the front of stores. But with fewer people doing the weekly 'big shop', retailers must find other ways to keep consumers in store for longer. Waitrose is rolling out wine bars and its 'The Kitchen' dining offer in a bid to do so – but there is plenty more work for the upmarket grocer and its rivals to do.