Conviviality boss Diana Hunter has revealed the off-licence group is poised to embark on an ambitious expansion plan.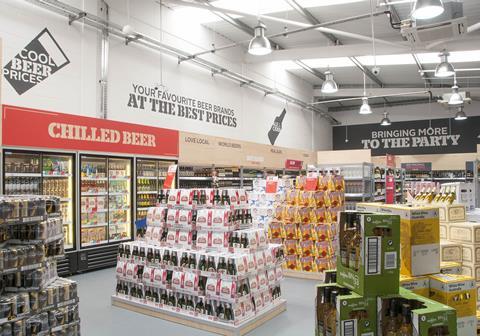 The owner of the Bargain Booze and Wine Rack fascias reported a 4.4% jump in pre-tax profits to £9.7m in the year ending April 26, opening 29 new stores during the 52-week period. That took its year-end total to 624.
Hunter said Conviviality is planning to accelerate its expansion in the coming years, targeting 50 to 55 new stores this year and "similar levels" thereafter.
"We are going to set out plans to grow 50 to 55 stores every year. In three years' time, that means we'll have an estate of around 750 stores"

Diana Hunter, Conviviality
She told Retail Week: "Because of all the progress we have made over the last two years, I think we are in a much stronger position to grow. Our infrastructure has had investment, we've brought the right people into the business and we'll start to grow again in the year ahead.
"We are going to set out plans to grow 50 to 55 stores every year. That enables us to move faster into new geographical areas.
"In three years' time, that means we'll have an estate of around 750 stores."
Asked if Conviviality could reach the 1,000-store mark, Hunter said: "We'll keep going and see where we get to. A key part of our strategy is quality not quantity, so it's about finding the right sites, in the right location, with the right franchisee working alongside us."
Conviviality has three stores in Scotland at present as part of a trial with Scotmid. Hunter expects to grow its estate there to between 15 and 20 by the end of the year. She said the group is also mulling expansion in the Northeast and Yorkshire, plus untapped areas of the South.
Click-and-collect
Hunter said Conviviality will roll out its click-and-collect service to around 250 stores by "the end of the summer" following a successful pilot in 66 stores. She said that the group "certainly won't be charging" for the service following news that retail behemoths John Lewis and Tesco are charging extra for fulfilment.
Hunter said that Conviviality is in a position to run the service for free and continue to offer low prices, despite the fierce competition from supermarket rivals.
She added: "In the last year, which is the year that everyone's talked about there being a price war, our prices have been consistently 12% cheaper than the supermarkets on our alcohol promotions – and we've still increased our revenue and profits.
"We haven't found that we've needed to drop prices further. We do not directly match our competitors' promotions – we make sure we deliver the right promotions for our customers and that has resulted in consistently delivering the price differential that we always have done."
Aldi Shmaldi
Hunter added that Bargain Booze's new Aldi Shmaldi marketing campaign, comparing the price of branded products with the German discounter's little-known labels, has received a "huge amount of positivity" in the three weeks since its launch.
"Our existing shoppers know how good we are on pricing and are very loyal to us, but new shoppers who we would like to attract weren't as aware of our brand and our proposition as we would like them to be," Hunter said.
"That's largely because of our geographical spread and the fact that we aren't yet national, although we intend to be."