Conviviality is suffering the hangover to end all hangovers as financial chaos threatens to undo years of progress and hopes for further expansion.
The drinks retailer's nightmarish session started with a profit warning. A little more than a week later, chief executive Diana Hunter has fallen on her sword and is stepping down with immediate effect.
A string of financial mishaps has caused the group's shares, which had reached a high of 426p in November 2017, to plummet to just 101p prior to being suspended.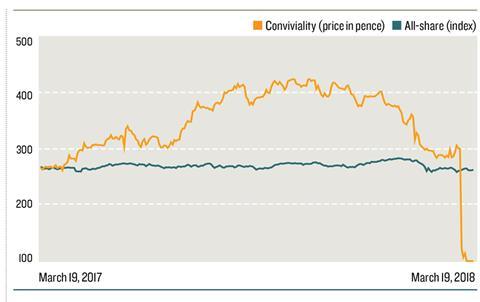 First, the Bargain Booze owner admitted its full-year pre-tax profits would be £15m less than previously hoped, after a forecasting error. That blunder was followed by the admission that it had – astonishingly – discovered that a £30m payment is due to HMRC by the end of this month.
After cancelling its interim dividend, the embattled drinks specialist then said it was looking into the possibility of an equity fundraising to help it stabilise. It has drafted in PwC to help.
Sadly for Conviviality, the trips and falls of its tumultuous March won't be shaken off as quickly as a conventional hangover.
Its headache does not end with the departure of the well-regarded Hunter. The trouble threatens to undo five years of otherwise excellent progress made under her typically steady hand.
The company is now facing into painful losses, with Hunter perhaps just the first casualty.
A major setback
During Hunter's five-year tenure, the former Waitrose director worked to shift Conviviality's proposition, taking it upmarket and expanding into the South of the country through its acquisition of Wine Rack in 2013.
Hunter oversaw Conviviality's stock market flotation the same year and, in an attempt to drown out fierce competition, focused on the more profitable business of selling pricier wines.
The retailer also diversified into wholesaling by snapping up distributor Matthew Clark in a £200m landmark deal that in some ways presaged similar tie-ups such as Tesco-Booker.
"Before Hunter's exit, Shore Capital analyst Phil Carroll noted the 'huge dent in management credibility' and said the errors highlighted a 'serious lack of systems and controls in the business'"
The strategic moves, and the retailer's growth, won widespread praise in the City as sales fizzed from £364m to £1.6bn between 2015 and 2017.
In its last full-year, pre-tax profit rocketed 147% to £22.5m.
However, since its blunders emerged, the tone has changed dramatically as brokers expressed concern.
Before Hunter's exit, Shore Capital analyst Phil Carroll noted the "huge dent in management credibility" and said the errors highlighted a "serious lack of systems and controls in the business".
"Looking ahead, we now expect the company to be trapped in a vicious cycle that starves the business of much-needed cash and we are increasingly doubtful equity holders will be left with any value," Carroll warned.
The broker has withdrawn its forecasts and put its hold recommendation under review.
Even Conviviality's house broker Investec cut its adjusted earnings forecasts below the company's guidance to £50m.
Glass half empty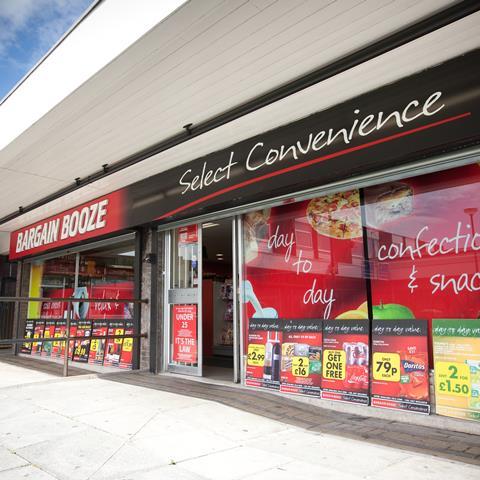 All this has come at a particularly bad time for Conviviality, when sales typically dry up in the patch between New Year and spring, and before the benefits of some of its acquisitions have truly come into effect.
Now, with the additional task of appointing a new boss, there is an enormously challenging period ahead for Conviviality.
Its expansion strategy is therefore likely to sink to the bottom of the agenda.
Plans will be shelved until analysts and shareholders' faith is restored in the company's ability to operate, and until they are reassured that there's nothing else major to be uncovered.
If something as significant as a £30m tax bill could be missed, what other skeletons might be found in the closet?
Conviviality, which is due to file a pre-close update on March 27, insists discussions with lenders and HMRC have been constructive.
But many questions remain unanswered.
As for Hunter, for the time being at least, Conviviality's errors sadly cast a shadow over an otherwise impressive retail career.